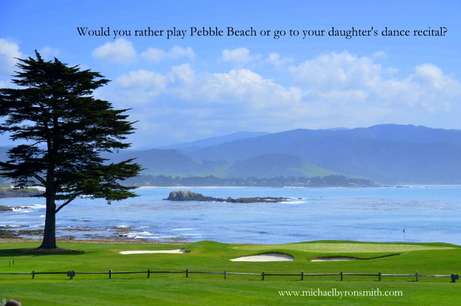 Would you rather play golf at Pebble Beach or go to your daughter's dance recital? If you are an avid golfer, it may be tough to answer that honestly. If you chose Pebble Beach, it doesn't mean you're a bad dad. It would depend on the scenario. Some decisions, however, are much easier.

I have a confession. As a young father, I let what was popular (to me) get in the way of what was important. The important thing I allowed to take a back seat was my family. What's more important than that!? I'm guessing other parents have done the same thing at one time or another. It's easy to do in the everyday humdrum of life and even more so when you are a rookie dad, like I was at the time.

What I often did as a young father was listen to a sports talk show while we were eating dinner as a family. Although relatively harmless compared to some of the things unfit fathers do (or don't do), that was silly, selfish and is embarrassing to me now. This talk show was an escape for me, and since the internet didn't exist then, I couldn't tap into the conversation later. It was a lousy excuse then as it remains a lousy excuse today. Of course my wife complained, but I somehow rationalized to myself that it was alright. When I was growing up with my brothers and sisters, we did not have 'dad time'. There was no model for me to follow, so while I may have known deep down that I was wrong, I wasn't shamed by an example from my youth.

This is just one example of how coming from a dysfunctional family reverberates into following generations. It is also why well meaning people make mistakes. We all need trusted mentors, examples to follow, that can show us the proper way. We usually parent as our parents parented - which can make us glad or sad! When a parent is missing, there is usually no example from whom to learn. Children need both parents of course, but specifically, a boy is lost without a male example and a girl is lost without a female example.

In the same way, important topics like parenting and world issues are overtaken in media and conversation by popular topics like celebrity gossip, sports, and reality TV. This is not going to change any time soon. Perez Hilton and TMZ have top rated blogs based on gossip. As a society, we love and pay much attention to gossip. When Kim Kardashian or Mylie Cyrus sneeze, we know about it. I can't explain it. I've never been a big fan of celebrity. But then I have issues others don't understand.

Of course, it's natural and within our rights to have things we like to do for ourselves! We would be very unhappy and terrible to be around otherwise. If my daughter wanted my attention during the ninth inning of the seventh game of the World Series, I would have no trouble telling her to wait if the issue could wait - and it usually can. Just think about what's the most important thing at the time. If there is any doubt, I hope you know what to do!

Society may not change, but you can change as a parent. Think about what you might be doing that's popular instead of what is important, especially as it deals with your kids. Think, also, about fixing that if necessary!