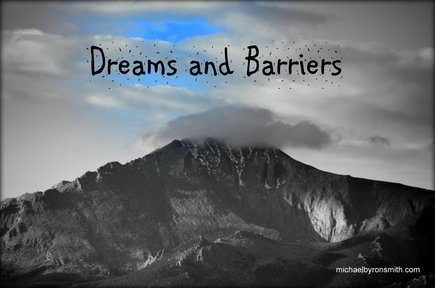 Dreams have been the seed for many wonders and successes. Novels, buildings, religions, societies and entire industries have been born from dreams. One wonders what dreams were dreamt that could have helped or pleased us all that never came about. What is it that brings some dreams to reality and others to silently die?
Barriers! We see barriers all the time. Some are meant to keep us safe. Some are meant to make us pay up or stay out. Some are meant to keep secrets for us or keep them from us. Others are just challenges, mostly in our mind. It's pretty clear that barriers can be good or bad. Mountains, seas, diseases, prejudices, all have been real barriers that have been conquered. But there are barriers much less formidable that continue to keep too many of us from moving forward with our lives. The worst barriers are those that are imagined.
The four-minute mile was an imagined barrier until Roger Bannister of Great Britain broke it in 1954. After that, many others ran a mile in under four minutes. The spell was broken and so was an imagined barrier. Now the record is an amazing three minutes and forty-three seconds and even many high school track and field runners have broken the four-minute mile barrier.
Desegregation was a serious barrier in our country for many years. What is so clearly 'right' today, was not as clear to many in the past. It took decades of brave people to push for what was right. Patience was necessary to change the mindsets that had been passed down from generation to generation. While it existed, desegregation was a real barrier to those who bore the burden. But it was also an
imagined
barrier by those who sought to keep segregation in practice.
There are barriers that are common to most of us, many of which are imagined, or self-imposed. I've listed many of them here:
Common Barriers
:
Getting out of bed – it can be tough some days
Being responsible – you may be unwilling
Listening – you may not want to
Adjusting – you may not like it
Patience – you may have none
Lack of a goal – can't meet one if you don't have one
A lack of imagination – a serious barrier
Poverty - avoiding the other common barriers will usually break this barrier
Stupidity – one of the tougher barriers to overcome
Studying – it could be boring and/or difficult
Working – it could also be boring and/or difficult
Race, sex, religion – much more difficult for some than others, but never impossible in today's America (see other bullets)
Waiting to be treated fairly – Ha!
Coddling – don't let it happen to you
Sympathy – don't look for it!
Laziness – you brought this one on yourself!
Lack of confidence – a serious barrier you must fight through
Fear – risk taking is critical to real achievement
When I review the bullets above, I think every one of them could be eased or exacerbated by parents. Good parents teach responsibility and avoid excessive coddling. Weak parents often don't urge or encourage their children to do well, nor do they preach patience in the face of struggle or failure.
Breaking Barriers
Imagined barriers are learned or self-imposed and keep us from reaching a higher success. While some give up when faced with an imagined barrier, others use them as incentives. Breaking barriers by individuals come about from at least three methods.
I'll show you I can! (a challenge or anger can be a strong motivator)
I want it really badly! (desire, determination, vision)
I didn't know there was a barrier. (innocence is sometimes a gift)
To break a barrier usually takes two of the three methods above named anger, desire, and innocence. Even the "I didn't know about a barrier" method requires one to want something 'really badly' because if it were easy, there wouldn't be a barrier. In fact, barriers exist every step of the way to self-improvement or to any goal.
Failure
Failure is often considered the ultimate barrier, the final blow - but nothing could be further from the truth.
Failure is an important pathway to success, i.e. unless you are failing in any of the '
Common Barriers
' above. Failure is the backbone of trial and error. Failure is a tool of learning. Failure, when used in a positive way, will strengthen you. How often you fail indicates your drive and determination. Edison invented the light bulb, but only after he failed 10,000 times.
Without experiencing failure, you will be an underachiever no matter how successful you appear to be to others.
Real failure and real success are within you, not a comparison to others. Real 'earned' success is dependent on the difficulty of the tasks and how much hard work was required to get to where you are. For instance, two men are equally intelligent, effective and successful lawyers. One comes from a well-to-do, educated family. The other comes from a broken home and was raised in a mostly welfare situation. The second man achieved more 'within his world' because he had to overcome more barriers. A woman sets a world record for women in the mile. Her time is slower than many men, but she is more triumphant because those men set no records.
No two people have equal talent, skills and ability making it difficult to determine who the real winner is in any circumstance beyond, of course, the obvious and tangible ways we measure success; who's first, who's fastest, who gets the most accolades.
Finding Help
The saddest failures in life are those who will not get help when suffering from any of the common barriers. Common barriers can be overcome by education, coaching, experience, practice, adjustment, alternatives, and openness! But the individual usually has to take the first step in breaking their personal barriers. When they do there are usually many people willing to help. This is where mentors become so effective. The first and most obvious mentors are parents.
​
Good parenting and mentoring will go far in minimizing the common barriers above by reaching their children early and molding them. Simple observation by a mom or a dad will guide them to correct a weakness through education and encouragement. Mold your children into confident, imagination-filled people starting in their infancy. If you wait too long to be a mentor, molding them will be either a much more difficult chore, or too late to make a real impact!
Summary
Dream big dreams for they make smaller dreams appear more accessible. Accept success in small increments without frustration. Be patient, for it helps one to think clearly and stay on track. Never give up unless you are truly no longer interested in the goal. And, of course, have goals! All of these characteristics can be taught, especially to young children. Both parents are critically important as mentors and teachers! Certainly there are tough barriers we will never conquer. These failures are reserved for the most ambitious of us because the ambitious never stop until they reach their highest challenge!
The Power of Dadhood
and motherhood is real!