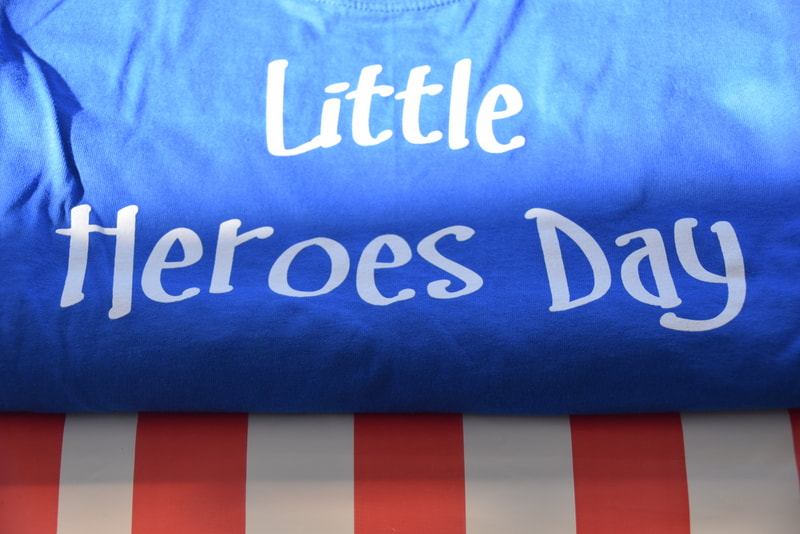 This past weekend, my wife Kathy and I had the honor of being a part of an event to honor children who have lost a parent in service to our country. It's difficult to explain the emotions that filled us as we worked with these young patriots. We could not even imagine what these children and spouses of our fallen have gone through and are still going through. This is why it was very difficult for me, at the end of this event, to do something we usually do for military families. I'll get to that later.
Our goal was to let these Gold Star families know they are not forgotten. For those that don't know, a Gold Star Family is one who has lost a member of their family in service to our country.
Three charities banded together to make this day possible.
These charities are:
Little Patriots Embraced – Mission: To enhance the lives of our Military families in need…While their loved one is protecting our freedom.
Dogwood Ranch – "A Place Where The Broken Find Redemption." A family of foster homes and equine therapy at a working ranch.
Dream Riders – "Honoring the Children of Our Fallen Heroes." Kids that have lost a father, mother, brother or sister in the military are emotionally injured and also need our help. Dream Riders mission is to bring these families together for healing and fellowship in a fun environment.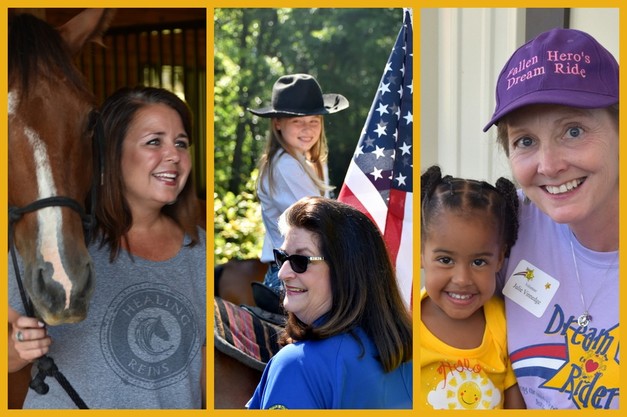 Dana Lopez (L) Dogwood Ranch - Carol Watanabe (C) Little Patriots Embraced - Julie Vinnedge (R) Dream Riders
These families, whose lives have been shattered as a result of their service to our country, should never be forgotten! As the motto of
Dream Riders
states, "Because they deserve happy memories". And happy memories was another goal of
Little Heroes Day.
Around eighty children, their families, and scores of volunteers spent a gorgeous day together near Springfield, Missouri learning about horses, doing crafts, and learning how to protect themselves from bullies and potential predators. Halfway through the day, the Marines (
Marine Corps League, Det. 993, Springfield, MO
.) cooked up a spectacular lunch for all with some of the best cookies I've ever had for dessert.
My main duty during the day was to take photos, especially family photos with a ​Dogwood Ranch horse. Each family decorated their horse themselves, which was quite an experience because many of them had previously never been near a horse. Without prying into such a difficult part of their lives, we learned some of their tragic back stories. One little girl, about three-years-old, was without either parent. Her father was killed in action and not long after her mother was tragically killed by a boyfriend. She was being cared for by a volunteer who brought her to me for a photo of her on a horse. She was the only Gold Star Child to get a photo on a horse (see her in the slideshow). The look on her face when she found herself looking down on the mane of Millie (the horse) brought a happy yet sad tear to my eye. I missed capturing 'the look', but I did photograph her beaming smile before she dismounted with the help of Dana Lopez of Dogwood Ranch.
A stepfather of one family came to me to thank us for the day. He had just received a medical retirement after fourteen years of service. This hero married a woman with five children a few years after her first husband was killed in action. Whatever he did in the Army, his heroic deed of taking on a family of five very young children easily challenged the valor of his military service. Not many men would take on such a responsibility!
Kathy talked to a young mother of two girls, around nine and eleven years-of-age, who lost her husband four years ago. This military mom says it is still difficult to deal with his loss and she misses him every day. Needless to say, most of the fallen heroes were fathers. This is where, at the end of this precious day, it became very difficult for me. I'll explain.
Those who read my blog know that I wrote a book that was published two and a half years ago. Through
Little Patriots Embraced (LPE)
, for which I am a board member, we give away copies of my book at most LPE events. This is possible through the generosity of Carol Watanabe, our LPE founder, and Colonel (ret.) & Mrs. George Niemann, who made a large donation to buy these books. But this was a most unusual event honoring the families of fallen heroes - most of fallen were fathers. The title of my book is "
The Power of Dadhood: How to Become the Father Your Child Needs
". Needless to say, most of these families were tragically without a father in the home at no fault of their own. Would my book bring heartache to these families for reasons that were too obvious?
However, we made the book available to those who wanted it as we did with Ray Amanat's book, "
Bully, Victim, or Hero
". The kids devoured Ray's book on bullying and self-defense while many of the parents asked for a copy of my book. I think these Gold Star Wives understand better than most how important it is to have a present and active father in the home. Hopefully, they will find another hero in their lives someday.
Summary
​
This was one of the most special days in the lives of the volunteers of these three charities. It certainly was to Kathy and me – to give back to those who have given so much! It's never enough – it can't ever be so. But these families truly appreciate the little we can do, "
Because they deserve happy memories
" like everyone else, maybe more so!
​
Special thanks to a few key people, knowing I am leaving out so many who deserve mention.
Carol Watanabe, founder of "Little Patriots Embraced"
Brian and Dana Lopez, President and Vice President of "Dogwood Ranch"
Julie Vinnedge – "Dream Riders" Executive Director & Treasurer, Gold Star Mother of LCpl Phillip Vinnedge
Steve Presley, a 'Little Patriots Embraced' volunteer.
And a
very
special thanks to our
Gold Star Families
!

Here is a slideshow of just a few activities of the day.​