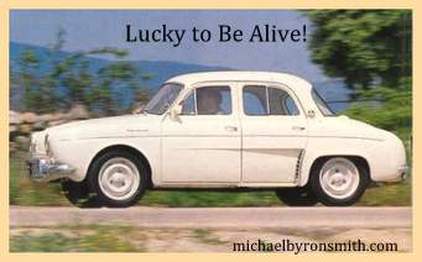 ​We all have memories of incidents where just one slip, one second of inattention, or one bad decision could have taken our lives. All in all, we are amazingly lucky to avoid the numerous tragedies that are around every corner. Of course, there are those who aren't so lucky - falling off a ladder or stories of people being in the wrong place at the wrong time at no fault of their own. Why the people on the four 9-11 flights lost their lives while those on Sully's US Airways Flight 1549 survived, no one can say. Some things we don't control but where we can, we must be aware of the risks and minimize them.

My story about being 'lucky to be alive' goes back to my childhood. It's not just one incident. It was more of a lifestyle that put my family in frequent peril. The best example of this lifestyle danger is our experiences with my father's drunkenness while driving.

A Lasting Memory

There is a sound I hear that always takes me back to my childhood. It is the sound of cars zooming past us on a highway as we were parked on the side of the highway. Zoom, zoom, zoom-vroom-zoom, zoom-zoom, vroom! This is the sound I listened to for hours on the numerous occasions my father pulled over because he was too drunk to stay awake, let alone drive! My mother didn't know how to drive until I was six or seven years old, but struggled with a stick shift one night to drive us home. On occasions after getting her license, she often could not get my dad out of the driver's seat while he sobered up.

The safety of not being in a vehicle under the control of a drunk driver was countered somewhat by the immense boredom of sitting there in an idle car, listening to the sounds of trucks and cars passing by at high speeds and feeling the car being rocked by the air-wake of large trucks. No smartphones in the late 1950's to pass the time, not even a transistor radio. We didn't use the car radio for fear of the battery dying. It would have been nice to have a book in the car, but I never wised up to the idea of having one at the ready. Many times it was dark anyway.

No one wore seat belts back then. The seats in the front didn't even lock in place. I remember standing behind my dad as he drove. If he stopped too fast, I would move forward with the back of the driver's seat into my dad and then flop back into my rear seat on the recoil. Even with that, my dad never stopped me from standing behind him. Some 1950's cars had big decks under the rear window where a kid could take a nap. On wintry days, the sun shining on my back while laying back there would feel so good. Now, I imagine flying like a crash dummy from that comfy spot during a sudden stop, likely decapitating my father as I flew through the front windshield. Why that never happened was just blind luck!

The Renault Dauphine

These scenarios were likely in any car, but our cars were not in the best shape. In later years, after my dad had abandoned the family on a more consistent basis, my mother took over the driving. While she never drank, the cars became even more dangerous. I specifically remember a car we had called a 1957 Renault Dauphine. It was cheap, simple, and very small. Somehow, we packed six kids and my mom in this tuna can. Being in my early teens by then, I remember ducking below the shotgun window, which took all the flexibility I could muster, to hide my face when driving through the neighborhood. While bent over, I could see the road passing below through a small hole in the floorboard.

With all its lack of flair and absence of cabin space, I kind of liked that car. Maybe because when I sat in it alone, I could imagine driving myself and shifting the little stick shift coming out of the floor next to that hole. There weren't many foreign cars back then and the engine was in the back, which kind of fascinated me. But had we been in a head-on crash, the front of the Renault would have buckled in like an empty aluminum beer can. There was no collision safety protection, no safety ratings! While I always sat in the front seat, I was never alone. I always had a younger sister or brother in my lap. That allowed the back seat to house four kids in a seat designed for two Smurfs. Still no seat belts installed, an accident in that car would have taken us all out and it would not have been pretty!

We lived mostly in the city but never worried about playing outside alone. I never even heard of a predator. I was only concerned about the local bullies. I remember being in the third grade and having so many of my classmates who smoked - at eight years of age! No smoke alarms, carbon dioxide detectors, or ground fault circuit interrupters (GFCI). Compared to today, it was the Wild West! These are just a few examples of our way of life back then.

Summary

I can't even imagine driving around drunk, especially with children in my car. I would never allow anyone to not wear a seat belt. Yet it still happens! But now those situations are considered crazy and occur much less often. Sometimes, I think certain people go overboard with the safety stuff. But I come from a different time and wearing a helmet on a tricycle is the thing to do today. You never know when a high speed trike will hit a tree sending a two-year-old flying. But seriously, it puts safety in the habits of our children? Parents must consider every situation and protect their kids from possible danger without restricting them too much from life. Somehow, my family and I were spared from potential tragedy. It was good fortune! Creating your own good fortune by being safety conscious at all times will go a long way in protecting your family. That, as a mother or father, is your highest responsibility!