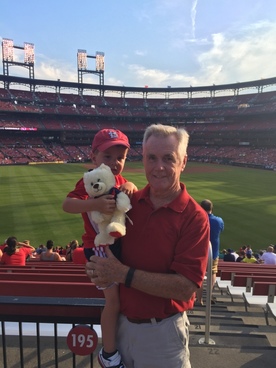 If you are very lucky, one of the greatest perks of being a father is eventually becoming a grandfather. Unless you become the primary caretaker, and hopefully that never has to happen, there are rules for your relationship with your grandchild that don't apply to dad.

As a dad, you have to be little stricter on the rules. Giving in too often is bad for the child's outlook on how life works, and it is bad for your authoritarian relationship. As a grandfather, you are an occasional deviation from restrictions that parents have to enforce to be good, thoughtful parents.

Yesterday I took my three and one-half-year-old grandson, Ryan, to the Cardinals-Dodgers baseball game. It was "Build-a-Bear" night and he got a stuffed bear in Cardinal gear. Getting the bear was not a grandfather thing as most children there were brought by their parents. Kids certainly do get treats from their parents.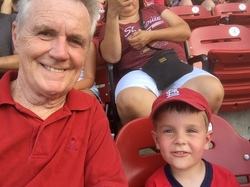 ​​The national anthem started. Just at the time, his mom and dad called on 'Facetime'. I pointed the phone at him with his hand over his heart as I had instructed. They loved seeing him in his Cardinal shirt and hat respecting our national anthem. Later on his mom told me he forgot to take off his hat. I forgot to teach him that.

A rookie pitcher made an emergency start for the Cardinals and he gave up nine runs before he got five outs. That may have soured my night a bit as a Cardinal fan, but my grandson isn't yet old enough to care. He sat patiently while the Dodgers poured it on. Losing 9-0 after two innings, we decided to go to the kids play area. He played for a while then decided there were too many other kids there. Besides, an $8.00 ice cream cone had been promised.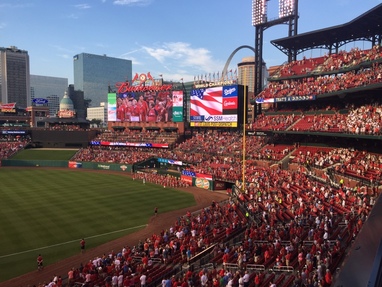 ​Back to our seats to devour a quickly melting cone and a couple more innings. I knew we wouldn't be able to stay the entire game because it was way past his bedtime. We left after the 5th inning. The Cards were losing 9-3 then anyway.

We walked to the car with a stop along the way through Ballpark Village where Ryan saw an enormous TV and then through City Garden where kids were cooling off in the many miniature fountains of water. Of course, Ryan had to stick his hand in one and got his shoes wet.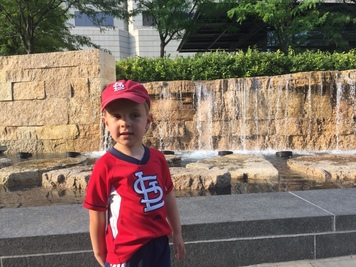 ​Before we left Busch Stadium, Ryan had asked for a lemonade. He told me his mom let him have lemonade at McDonald's. Knowing the price of lemonade at the ballpark, I told him "how about we get lemonade at McDonald's on the way home?" He was all for it!

We made our way to the car from City Garden and headed home, watching a distant lightning storm to the west. Ryan wasn't too happy with the lightning. I told him he was safe in the car and suggested it looked like fireworks. He agreed but said there were no colors like real fireworks. I agreed.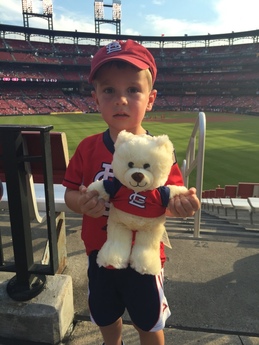 ​
I tried to listen to the game in the car, but he was chattering so much I turned it off. We stopped at McDonald's and got a large lemonade and fries to share. He was in little-kid heaven. He loved the lemonade but had to wait for the fries to cool a bit. We got home with me wearing a 'Fredbird' balloon hat that a balloon artist had given to Ryan at Ballpark Village. He bounced into the house as happy as I had ever seen him, telling his parents about the night and eating french fries. He asked that I put some of the lemonade into his Batman cup.
​
I don't know if Ryan will remember this night being so young, but I will cherish my night with him forever! I love being a grandfather!!