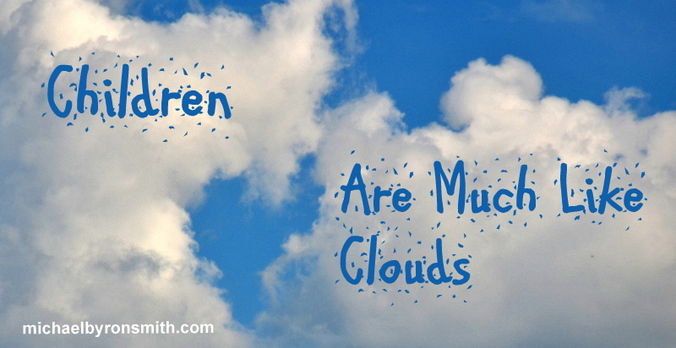 Photography is a hobby of mine and some of my favorite photography subjects are clouds. To see clouds, you have to notice them--which means you have to look up. Recently, I put together a video of some of the photos I have taken that has featured clouds. After finishing the video, I thought about how children have similar characteristics to clouds. Like picturesque clouds, you may not notice your kids unless you look up.

It's true! Children are a lot like clouds. They change so quickly you can miss something amazing by being distracted or uninterested. Some clouds are bold and bright while others are wispy and light. So too, are children, different and changing. Dark clouds can be volatile and loud, but they can also have a silver lining. Children can be like that.

Clouds collaborate with the sun to paint the sky in ways that can astonish and captivate. A parent can be the sun for their child, turning what could be an ordinary puff of a child into a bold sunrise anxious to impress.

If you study them, you can see things in clouds that you didn't know were there, like a bunny, or an angel, or a bulldozer. Similarly, if you watch your children closely, you will see things in them you didn't know were there. You may find talents or passions to be encouraged, or fears and troubles to be eased.

Of course, kids can rain on you! Sometimes rain is annoying but it can also be refreshing. Enjoy the rain when you can. It's just part of the cycle. For in every life, a little rain must fall. Without it, you will not grow.

Let the clouds be your reminder, a reminder of your children. Look at them. Watch them change. Know there will be dark times and bright times. Help your children to become the best they can be by knowing them well. Expect the bright days, the gloom, the shadows and the rain. Do this and react accordingly and, ironically, most of your days will be filled with sunshine!

Following is the video, "My Clouds" that inspired these thoughts. It features Zach Sobiech singing his song "Clouds".​
---