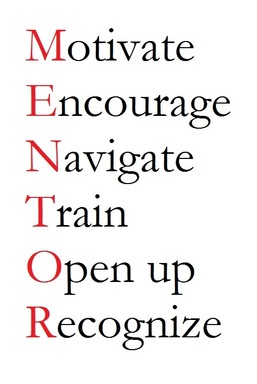 Mentoring by the Letter
What is a father if not a mentor? He can be a wonderful provider, and that's good! He can be a fun guy to be around, and that's good too! A father can be a loving man to his children! I know men who are all that in one package. But if he is not mentoring his kids, then he is not helping to prepare them for the future.
Passively, of course, your very presence is helpful for their learning. They watch how you treat people and handle problems. They ask you questions and you answer them, most of the time. When a son watches you, he mimics you. When a daughter watches you, she assumes that's how all men act and react. Hopefully, you are an excellent example.
Actively, you can be a teacher of life, purposely guiding them to adulthood. This is called mentoring. A mentor is a guide, supporter, advisor, and a trusted individual that counsels someone usually younger. But what is one doing when mentoring? The letters in the word mentoring can be helpful to help remind a father or mentor what to do.
Motivate
You can be a motivator by introducing new experiences to your children. Notice what they are good at and support them. Teach them about goals and planning. Motivation is the spark that starts any undertaking or adventure. Be the one they know will support them in any honorable endeavor. See
Nurturing 101
.
Encourage
Encouragement is what fans the flames of success. Be a cheerleader. Give pep talks when failure makes a surprise visit. Tell them they are good when they are good. Think back to a time when someone's encouragement helped you.
Navigate
Help them to take on life's little, and not so little, lessons. Correct them when they make mistakes. Guide them down the right path regarding social situations, education and friends. See "
Will Your Help Make Them Stronger or Weaker?
"
Train
Teach them how to be strong. How to be on time. How to treat others. Teach them how to handle and learn from failure. If you don't, who will?
Open up
Be approachable. When your children have issues, they need someone to open up to. See '
How to Talk to Your Kids
'.
Recognize
It's very important to give your children praise and pats on the back when they do well. Also important is to recognize when they are making mistakes so you can correct them. Both actions show that you care. It's another way to encourage them to keep on a positive track.
Be the mentor your children need. Be their hero and guardian.Your goal is to help them reach their goals! Future posts will discuss, in further detail, praise, recognition, and encouragement.
Thanks for reading!