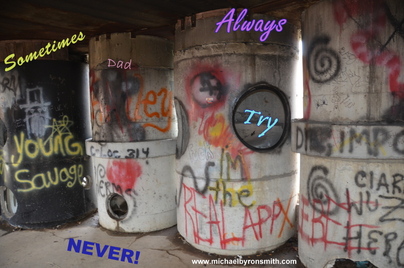 Dads make mistakes! (So do Moms). When it comes to parenting it's likely that dads make, on average, more mistakes than moms. But when the errors dads make are of commission (action) and not those of omission (inaction), I think we can recover.

I've basically developed my fathering style on my own. When you do this, you have some false believes and it often takes a while to correct. While your intentions may be good, the results may not be. Without going into specifics, I've changed some of my views on how to raise kids properly. If you don't, then you are just stubborn or not paying attention.

A fathering style that works, even in the face of imperfection, has some key components, two of which are caring and being there! Below are lists of many other facets of parenting and where I stand on them today (not yesterday or tomorrow, but today).

Each bullet point is a topic all parents need to think about. I personally believe in all of them. What really changes for me are the terms 'sometimes', 'always', 'try', and 'never'.

There are thoughts (points) in the 'sometimes' and 'try' lists that I used to think should be in the 'always' list. Tomorrow I may move a thought from 'always' to 'sometimes' and so forth. I'm pretty solid on the 'never' list, but I'm open to discussion on it.

Therefore, I present my lists of parenting philosophies. It's not perfect. It's subject to interpretation and style. But it is good to think about these ideas when you are raising kids. My list will grow and it will change. That's good! That means I'm an active parent/grandparent. So here goes:

Sometimes

· You have to say NO for a loved one to move forward.

· You have to honest with a loved one, instead of fooling them into failure.

· Your children feel the most love when being denied.

· You need to coddle and sometimes you need to push.

· Be silly and sometimes be serious.

Always

· Show love and support.

· Be honest with your children.

· Be aware of your imperfection, and the imperfection of those you love.

Try

· To be fair.

· To encourage imagination and responsibility.

· To listen.

· To balance your needs and those of your loved ones.

· To be consistent.

· To have positive principles for which you are known.

Never!

· Treat one child better than another (different maybe, but not better)

· Underestimate your influence on your kids.

· Have a child if you don't want to take care of it.

· Belittle a child, or anyone else.

· Abuse your power.

What do YOU think?