We've all been there. Something unfortunate happens to us and we say "why me"? In other words, "what did I do to deserve this?" When we ask this question of ourselves, it's not a serious attempt to find an answer. But maybe it should be!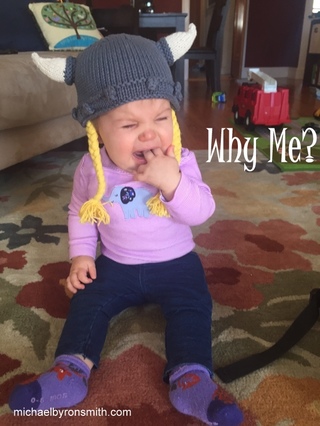 When you find you have an unwanted pregnancy, do you ask, "why me"?
When your marriage falls apart, how well did you know your spouse before marriage? Did you ever think, "I can change them"? Do you think it was all you partner's fault and that you were pure?
If your child is failing in school or constantly in trouble, do you consider what kind of parent you have been?
When you can't find the job that you want, do you review, honestly, your qualifications, your personality, your energy level? Did you prepare yourself with an education that fit the job/occupation you desire?
When you get a flat tire, do you consider where you were driving? Were your tires in good shape? If they were, do you think you are the only one who ever got a flat tire?

Bad things happen to all of us. Some of them happen because we are careless, unaware, or stupid. Others happen without any fault of our own. Here are some examples;
You are in an accident because of a drunk driver.
Your car falls into a sinkhole.
Your house is destroyed by a tornado.
You are struck by a sickness or disease.
​Life itself is full of risks! We know when we hit the streets that drunk drivers are out there. Different areas of the country have unique risks such as sinkholes, tornadoes, hurricanes, floods, etc. We are always at some risk, even sitting in our easy chair eating chips and drinking a diet coke. We also take calculated risks. If we did not, life would not be very enjoyable. Some of us are born into families with medical histories or tendencies that can affect us negatively, the only alternative to that is no chance at life at all.
Is life fair? We know it is not, but we all act like it is supposed to be. I wrote about this in "
The Greatest Lesson
". As soon as we rid ourselves of this notion that life is fair, or that we are special in some way, the better-off, mentally, we will become. There are few things that upset me more than getting a speeding ticket which means points on my license, money down the drain, or even more money getting a lawyer. But the next time I get a ticket, and I hope to be a responsible driver, I will recall all those times that I could have gotten a ticket, but didn't. That thought calms me down, a little.
W
e seem to ignore the breaks we get. When we get a beautiful day for our birthday or wedding, or our newborn is perfectly healthy, or we catch all green lights, we rarely think to say "why me?"
My point is to take responsibility for your life and actions! Accept that "stuff happens". Not only will you feel some relief, but your attitude and view of life will change. You will be more careful in your choices, make less mistakes, and you will rarely say, "Why me?"
But sometimes, like me, you will
still
say "Why me?" out of frustration, and that's okay. But don't really think that you don't know.