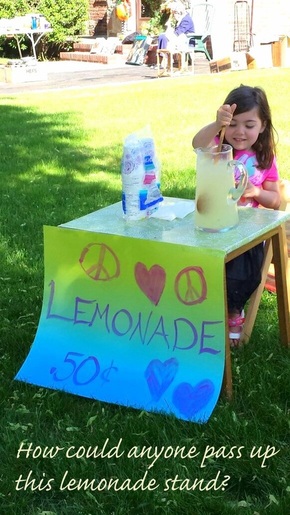 Raising children is much more than feeding them and giving them a place to sleep. Dads and moms need to teach life's simple lessons to children whenever we can. Those lessons don't have to be elaborate and they don't have to be formal.

For example, a few days ago I played tic-tac-toe with my 5 year old granddaughter. When she was 4, I always let her win and she was always so proud of herself. But she is a very sharp little girl and she needs to know that losing is something that can, and will happen to all of us, including her. She was mildly stunned when I got three O's in a row. Not wanting her to feel defeated too long, I then showed her how she could almost always win if she goes first (being X) and makes a couple of smart moves. Losing means that you may have to practice more or work harder.

Losing gracefully and rebounding is one of THE key lessons in life. It's also one of the toughest lessons to teach. But you can't assume that a child will understand these things on their own. Some kids never learn to lose gracefully, some never learn to bounce back, and others never learn to win. Any of these negative results can hurt one's growth.

I'm particularly impressed when I see any kid take initiative. A few years back, I made it my personal policy to never pass up a lemonade stand. Of course, there are times when I have to be somewhere else at a designated time, or it's simply not safe to stop or to turn around. But generally, I will always stop and buy a drink from a kids lemonade stand. I believe it is important to recognize and encourage kids in this most basic of business lessons. I have had some excellent, and some really face-contorting lemonade in my time! But it's not about the lemonade, it's about supporting kids who aren't watching TV or playing video games. They are outside, learning basic commerce, meeting and communicating with people, and earning a little money.

One cute little girl, about 5 years of age, decided she was going to 'sell' lemonade one day. Generally, lemonade entrepreneurs are 7-12 years old but it's not unusual to be younger or older. This cutie was new at the game and had lots to learn--and isn't that what's great about these adventures? Her enthusiasm was not an issue at all as she yelled out to everyone within earshot, "Free lemonade, only 5O cents!"

I thought her approach was unique! She may not have planned it, but how could you ignore a plea like that? When you are five, having a lemonade stand is not so much about economics, but a great way to gain confidence in dealing with people. This first venture will only improve her next experience as a salesperson. When she is older, she'll realize that lemons and sugar are inventory, mixing a pitcher full of lemonade is production, having a stand is overhead, and that there must be truth in advertising. After all, 50 cents is an exorbitant price for free lemonade!

Even more than the business angle is the joy they get from their interactions with customers. Some will give compliments on their lemonade or their signs. Other customers will honk or wave, then show up a couple of minutes later. Little kids will bring their own money. People on bikes will stop and tell them they really needed a cool drink and are thankful they found their stand. And, of course, there will be stories from the customers of how they, or their own children, once had lemonade stands.

But back to the opportunities we have as parents to teach every day! Like lemonade stands, we shouldn't pass them up. Our children need to learn when to be aggressive, when to take turns, when to share, when to give of themselves, when to think of themselves, and when to think for themselves. Even patience and manners are all lessons that, if we are observant, can be taught at just the right moment--when a real life example is before them and us.

Take time to not only be with your kids, but to watch for teaching moments. You can see a lot just by observing. That may have been said first by Yogi Berra, but it is true. Don't let mistakes and/or misdeeds slide, because every time you do, you will make undoing those acts more difficult in the future.

And please try to support your local, or crosstown, lemonade stand. Not only will you be rewarding some kids for taking initiative and self-teaching themselves, you just might have a nice experience – even if the lemonade is too tart, too sweet, or that 'free' lemonade turns out to cost 50 cents!