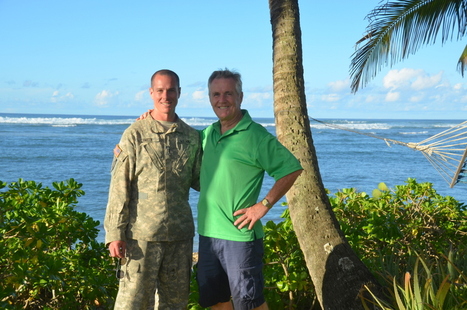 I believe in certain things, as we all do. For instance, I believe America is flawed but the greatest country on earth. I believe I am responsible for my own happiness. I believe the New England Patriots cheated in the 2000 Super Bowl. I could find many who would disagree with me on any of these beliefs. After all, a personal belief is often just an opinion, not always founded on a certainty.
Opinions come about through a combination of facts, rumors, bias, family history, country of origin, religion, convenience, experience, and that one thing that you would like to add I have not mentioned. The point is this. With this combination of factors, there is little if any likelihood that we could have the same opinions or beliefs. With that said, I'm going to tell you what this father believes about our impact, as fathers, on society.
My beliefs are mine, but the basis of my beliefs come from much research, statistical analysis, and life experience.
The bottom line if you do not want to read any further is this; most societal issues have, as their root cause, a decline of the family, too often, because the father is not involved with his children--if he is around at all.
1.
I believe that too many teen aged girls get pregnant because a boy wants to prove his manhood and a young girl is looking for male approval.
Both are the result of a family with issues, most often because the father is not involved.
2. I believe crime is caused by a need for drugs, disregard of honest work, and machismo.
a. I believe
drug use
is an escape from reality and caused by peer pressure, lack of self-esteem, and lack of caring or guidance.
i. I believe
peer pressure
is strong when there is no respected higher authority.
ii. I believe
lack of self-esteem
is due to a lack of a support structure.
iii. I believe a
lack of being cared for, or lack of guidance
is also due a lack of a support structure.
b. I believe a
disregard of honest work
is due to that principle not being instilled in youth.
c. I believe
machismo
is a release all boys need, but with guidance.
d.
All the above are largely the result of a family with issues, most often because the father is not involved.
3. I believe poverty is often caused by family patterns, lack of education, and/or lack of incentive or pro-active habits.
a.
Family patterns
are what you may believe to be the norm--when you only do what you know and see. When a family is in despair, the cycle can continue if nothing is done to break it.
b.
Lack of education
is an obvious impediment to success.
c.
Lack of incentive or pro-active habits
can be brought about by being comfortable in your situation, not knowing how rewarding work and accomplishment can be. Welfare contributes to a lack of incentive for many.
d.
All causes are largely the result of a family with issues, most often because the father is not involved.
4. I believe suicides and homeless rates are higher, and drop outs from high school are more likely
when families have issues, most often because the father is not involved.
5. Here is a twist. I believe that police profiling is (for the most part) a result a statistical analysis that points to a much higher likelihood for young black male to commit a crime than, for example, an elderly white Mormon (for exaggeration). This is terribly sad for the vast majority of young Black males who are innocent victims of this methodology, whether it is formal or not. But any anger towards police should also be directed at those young Black males, who do commit crimes much more often than other demographics. If not for them, the innocents would not be victimized nearly as much.
a. And why do young Black males perpetrate more crimes than young white males? I believe it is because 72% are born without a father in the home compared to a much lower 28% of Caucasians that are born without a father in the home.
It's not a race problem, it's a fatherhood problem.
b. Profiling is done everywhere, from advertisers, to college admissions, to warfare.
6. I believe that:
Mothers, in general, are much more dedicated to their children than fathers.

Most children can be molded to be good citizens.

Adolescents need a leader, and they need a good man to be that leader.

All children deserve both a loving male and a loving female influence.

Families are in decline and we need to act in a grassroots manner to fight against it.

Fatherly involvement is the key to a better society

Clearly, there are many other reasons, other causes, differing philosophies and disagreements as to why we have the societal issues we do. But can anyone deny that if the majority of families had a decent, caring, and mentoring fathers in the home, our issues would shrink into a manageable and healthy level? I hope to impact at least a few men, who will wake up and embrace this all-encompassing responsibility to their children. If all men would take this pledge, then society would then heal itself.