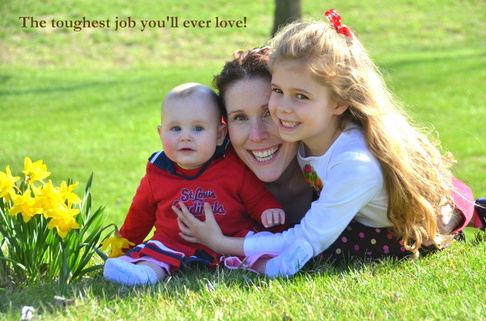 What do you think is the toughest job in the world? What is the most important job in the world? Could they be the same job?
There was an
article on adweek.com
that advertised a job that had ridiculously tough requirements. Some of which were,
• Standing up almost all the time
• Constantly exerting yourself
• Working from 135 to unlimited hours per week
• Degrees in medicine, finance and culinary arts necessary
• No vacations
• The work load goes up on Thanksgiving, Christmas, New Year's and other holidays
• No time to sleep
• Salary = $0
Only 24 people applied, maybe because of the tough requirements! But I think many people, as I, could see it was a fake add for a mother. (The fake company's name was Rehtom, Inc. - get it?). I agree with the point being made. Being a mother is no doubt one of the toughest, if not the toughest, jobs in the world. Done well, it is also one of the most satisfying!
I'm guessing there are tougher jobs when it comes to the satisfaction aspect. Port-a-Potty sanitary engineer, nursing home orderly, department store complaint dept., prison executioner, you get my drift. So a mother's job requirements, while very tough, are acceptable and necessary because when a mother's kids become successful in life, she can look back and think it was all worthwhile!
I kind of wish the name of the fake company was Stnerap, Inc. But it's nearing Mother's Day and I understand the timing and target audience. I also don't argue that, in the home, a mother's job is most likely tougher than a father's. Women have a sixth sense for raising children that most men do not have. That's why men are more often the primary breadwinner. Not because men are better breadwinners, but because in my opinion, most women are better at raising kids.
Nonetheless, we men are comparatively ignored in the world of parenting - and it is likely our fault. There are no father magazines that I know about (not that we would read them). You will have to look hard to find stories, blogs, advice, and attention about dads. I don't expect a similar Ad when Father's Day approaches. Hallmark does not make near the number of Father's Day cards as they do Mothers' Day cards. Long distance phone calls on Mothers' Day are near the point of crashing communications systems. On Fathers' Day, not so much!
Let's give dads some credit, however. We are critical factors in the success of our children! I've stated statistics in many of my previous articles that prove fathers are critical in the success of their children. Therefore, I found some requirements to be a good father with which I agree. They may not be as tough as a mother's requirements, but they are just as important for a dad to understand and master.
Maybe fathers can be deemed as having the second most important job in the world?
Please read:
Requirements for being a good father
.
The only job clearly more difficult than a mother's, is the job of a mother without a father involved!