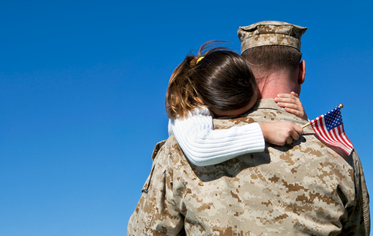 Imagine being sent on a business trip for a year when your wife is six months pregnant.
Imagine being unable to see your daughters first dance recital.
How would you feel if you had to take you children away from their friends, three or more times!
What if you could not promise to be around for your kids' birthdays?
You'd like to coach your son's baseball team, but your schedule just doesn't allow it.
Would you accept a job with risks that could leave your family without a dad, for modest pay?
Could you find a wife who understands that you cannot always be there to help her raise your children?
Welcome to the life of a military father. It's not always this way, but it is always possible. On Memorial Day we honor those service men and women that gave the ultimate sacrifice for their country! We also honor those families that had to get along without them.
We should also not forget that every military family has some sacrifice to endure, be it fear, separation, unfair burdens, multiple moves, loss of roots, uncertain futures and more.
When you are a military father - a Soldier, Sailor, Marine, or Airman – you might say your toughest job is not in service to your country, but in being able to be an effective father as you serve.
I'd like to say thanks the military moms and dads, their spouses and children for being those called upon to be ready - to leave each other, to sacrifice family time to defend the rights and privileges we enjoy each day.
Thank You!
PS. Since I first wrote this in May 2014, I have found
Little Patriots Embraced,
a wonderful charity that supports military children and their families. Please learn about and consider supporting this fine organization.