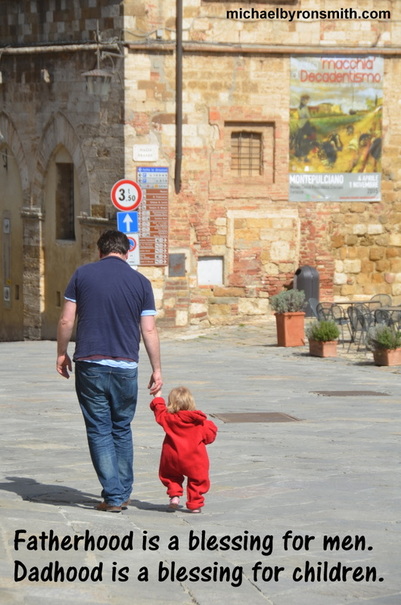 The holidays are hectic, joyful, and sometimes sad. A mixture of emotions can flood our hearts and brains while we are shopping, listening to Christmas music, or wrapping presents. Among the best of things the holidays bring to us is a reminder of the blessings we have in our lives - our health, our memories, our loved ones to name a few. One of the dearest blessings in my life are the joys of my children and grandchildren. I'm certain that is true for the vast majority of parents and grandparents.
We are so thankful for our blessings, some of which are granted by hard work, and others by the grace of God. There is, however, a blessing you can bestow on others, those closest to you. That is the blessing of being loved, cared for, and guided! If we are young, it is our parents who are in the best situation to bestow this blessing. If we are elderly, it is our children who can repay that blessing.
As a father and grandfather, I can speak for men. For those of us who want to be fathers (when the time is right), fatherhood is a blessing. Biologically it satisfies our basic need to continue our species. Emotionally it satisfies our need to love and be loved unconditionally. Intellectually it allows us to pass on our knowledge and philosophy to others who trust us.
No doubt, fatherhood is a blessing! But fatherhood is largely in our control. We decide and determine our contributions and commitments. The greater, and possibly the greatest blessing, is
Dadhood
! Dadhood is not a blessing for men, it is a blessing for our children. And what is Dadhood?
I would describe Dadhood as 'fatherhood in action'. What fatherhood allows us to do, Dadhood does in fact.
Dadhood is an environment where obstacles to raising children are challenges to beat, where love is demonstrated - not hidden, and where a principled life is not only taught, but demonstrated. Dadhood is involvement! Dadhood is what children want from their fathers.
Fatherhood is a blessing for men.
Dadhood is a blessing for children.​
Many circumstances and factors determine the success of a life. One key factor is how we were raised, something we, as children, have little control. When children have parents that look out for them in every way and mentor them through the various stages of life, their chances for happiness and success increase dramatically. Of course, there are exceptions where children succeed having had poor parenting and others where children fail with proper and loving parenting. Nevertheless, the exceptions are few and the blessing of Dadhood ( and 'Momhood') may be the greatest blessing they will ever receive. Success and happiness is then up to them, hopefully taking advantage of what was given them and, hopefully passing it on, generation to generation.
"The Differences Between a Father and a Dad"
I wrote an article about the difference between a father and a dad. Please click on the title above to read!