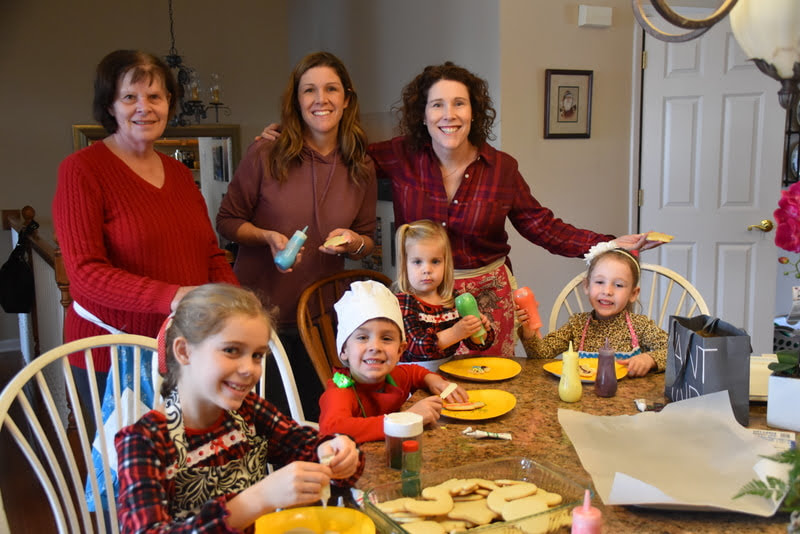 Kids love traditions! A tradition around our house for many years has been 'Cookie Day'! Always a week or two before Christmas, today was that day. A day to make and decorate Christmas cookies with our two daughters and four grandchildren. The master cookie maker is my wife, Kathy. She is the director of the day's activities. The dads were back home working on homemade Christmas projects for the kids. My job, as father and grandfather, is to sample cookies, praise the cookie decorating talents of the kids, and take photos. I think I pulled it off, but the stars were the kids.

Kathy goes all out! It's not just the cookies that make the day. The kids come to our house mid-morning dressed in their pajamas and stay dressed that way all day adorned with aprons to protect against the flour and icing. And gifts! Everyone gets new slippers and special ornaments. My daughters shake their heads thinking their children are being very spoiled, and maybe they are. But because our grandchildren have responsible parents who toe the line, it allows Kathy and me to do the things that may otherwise make them feel entitled.

Chicken soup for lunch and a couple of classic Christmas movies, "Elf" and "Home Alone" rounded out the day. Watching these movies with the kids made them even more enjoyable. Of course, they were up and down, often on the edge of chaos, but it was a fun day with memories made along with the cookies.

I'm sure the kids' dads will enjoy the cookies made, with care, for them to enjoy just as they enjoyed some time to get some things done for Christmas. And I hope their dads enjoy the photos of Cookie Day. They are the best dad's and sons-in-law a grandfather could ask for!
Cookie Day Slide Show