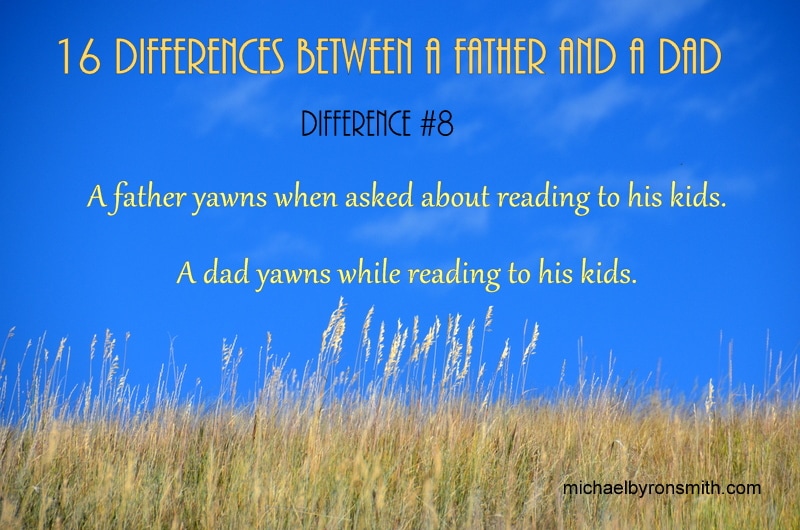 As a father I had this terrible affliction and it remains to this day as a grandfather. When I read to my kids, I have yawning fits. I cannot get three pages in to a kids' book before it starts. When I try not to yawn and continue reading, I sound like an elephant's mating call. The kids never seem to mind that much. They patiently wait until I get my mouth back into reading position only to get four or five words in before another yawn comes. My wife, on the other hand, just laughs at my disorder.
I don't know why this happens. Certainly some kids' books are very boring to adults, but most are fun, especially those that rhyme. As I write this I feel the urge to yawn just thinking about the situation. But nevertheless, I did read to my kids and now read to my grandchildren.
There are, however, fathers that don't take time to read to their kids and they don't know what they are missing. It's not on their list of things to do and it seems a bit boring when there are other things to do.
But I want all dads (and moms) to know just how important it is for your children!

​Reading to your kids is like, well it's like being a dad. The closeness, the caring, the teaching, the connecting are all happening at the same time, not to mention the learning.
But don't just listen to me! Read what the experts have to say! Click on
10 Reasons Why You Should Read to Your Kids
​
Now go find a little kid and read to him or her. #powerofdadhood
PS.
The Difference Between a Father and a Dad
–
Difference #8
is the first I have discussed in some detail. I will try to do that in the remaining 8 differences and maybe catch up on the first 7 differences later.
​Thank you so much for reading!
Mike