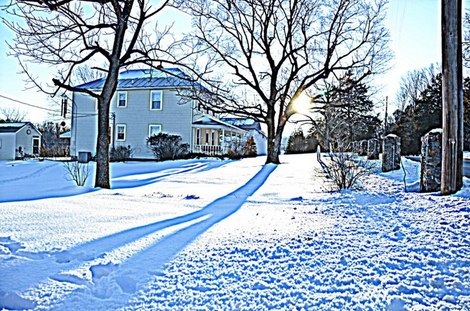 It was Christmas of 2010. Two years earlier we had bought a farmhouse in the rolling hills of Eastern Missouri, just three miles from where Daniel Boone spent his last few years. It was a solidly built home built in 1900 of solid, real 2 x 4 oak. My brothers and I had spent many weeks rehabbing and transforming the house, not from its basic charm, but a new window here, reclaimed wood floors there, and bathrooms that severely required updating. And best of all, we transformed an old canning kitchen to a fireplace room with lots of windows.

My wife Kathy and I had decided the previous Christmas to start a tradition of having Christmas Eve with our extended family at the farmhouse. Our two daughters, with husband and future husband in tow, our first grandchild, just two years old, my mom, a niece and her three children, and my brother's family all gathered that first Christmas Eve at the farmhouse--as we liked to call it. Especially nice was having my son with all of us! He had missed so many Christmases, as he will this one, because of his service in the US Army overseas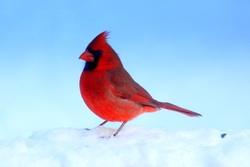 That morning it had started to snow. Not just flurries or a wet snow, but a real Norman Rockwell snow that fell in buckets of ornament-sized flakes. There was not a wisp of wind, allowing the snow to fall in a gentle, rocking motion. As it built up from two, to three, to four and more inches, the snow had a muffling, insulating effect. If you have ever been outside in a deep blanket of pristine snow with nothing stirring around you but a few cardinals and starlings, you know how deafeningly quiet it can be. The scene of a fresh snowfall over the fields and hills, along with a numbing quietness is, to me, uncommonly inspirational and a refreshment to the soul.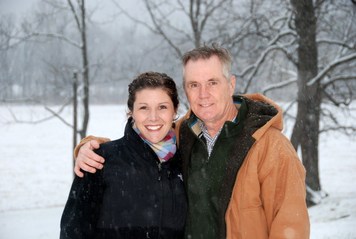 Despite the snowfall, everyone successfully navigated the snow-covered country roads and showed up one carful after the other. My mom came with a perfectly tan-crusted apple pie. My brother Bob and sister-in-law Ellen came with their teen-aged son and daughter, Timmy and Mandy. Immediately they wanted a family photo with the snow covered pines in the background. My oldest daughter, April and her husband (yet another Mike) came with the best present of the day for me, my granddaughter Malia. My son Mike was busy shoveling snow off the sidewalk that led to the back door as my niece, Stephanie, arrived with her three kids, all in their pre-teen years.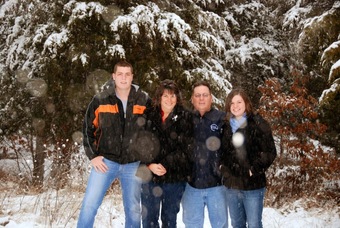 The farmhouse filled up quickly with people, food and chatter. The windows were steamed up with a turkey Kathy had in the oven. We pushed a couple of tables together, not of the same height, and crowded sixteen chairs where we could. Evening approached as we sat down for dinner with enough food for three Christmases. It was still snowing and we all felt a little magic in the air.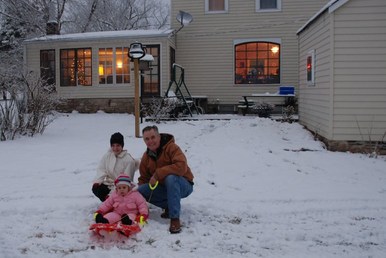 After we stuffed ourselves, a few of us and the kids went outside to play in the snow. My son-in-law, Mike, found a bucket and a rope and pulled Malia around the yard in her own little sleigh. Caitlin, Stephanie's oldest child, found a small sled and after a few trips down a small hill, also pulled Malia around as we all caught snowflakes on our tongues. Caitlin's sister, Lauren and brother, Colin trouped back inside with Malia to watch a kid's movie. I had my camera in hand and took a photo of them outside the window. Photos like that are always so nice after they have grown. I also tried to trick them jingling some sleigh bells outside, hoping it sounded like Santa flying by, but the older ones didn't fall for it.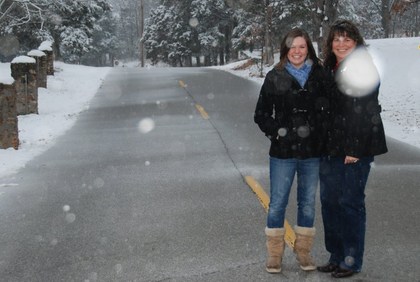 Later, we played what had become a Smith Christmas tradition, Christmas Bingo. A few days earlier, we go buy the cheapest toys ($1 to $5) at a dollar store, wrap them all up for a boy or girl, then whoever wins a round of bingo picks out a toy to unwrap. They love it! They love opening presents no matter what's inside and they have fun with the toy that night, and it usually only lasts that night!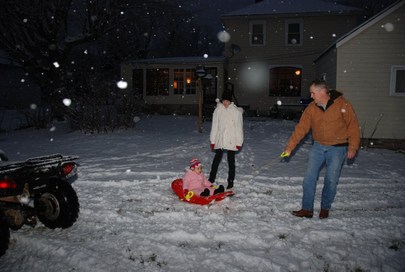 After all the food, conversation, games, and play, all were exhausted, but almost everyone helped to clean up. (I had to play with the kids). Then all were off to their homes to go to bed for the big reveal the next morning….except for Stephanie, Caitlin, Lauren, and Colin. They stayed the night at the farmhouse and woke up with excitement to a classic Christmas morning, in the quiet countryside, covered in snow.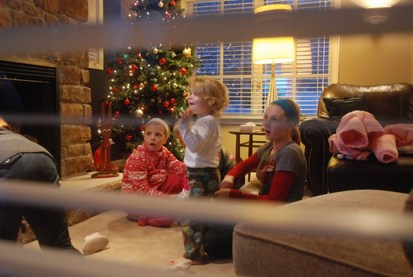 That was a wonderful Christmas! I can't believe it took me four years to capture it in words! I just wish my other three grandchildren, who have come along since, could have enjoyed it. Hopefully, they will have many memorable Christmases, and I hope to be there for many of them.

Have a very Merry Christmas!