This is a special, bonus post to honor the best parents in the history of the world--MOTHERS!

I blog about fatherhood and wrote a book on the topic because I believe all children deserve their dad to be completely involved in their lives. Unlike women, however, men often need more coaxing and reminders. Not all men are like this, but the statistics show us that mothers are much more likely to be the faithful, present parent when there is only one.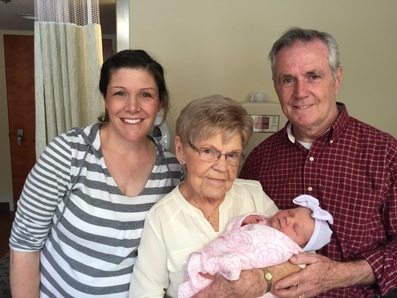 I think of my mother who raised six children on her own on a waitress's salary and meager tips while my father ignored his responsibilities and thought only of himself.

There was a time when I was a young boy, my mother had just come home from her waitress job. She dumped her tips, coins only, on her bed and started crying—something she didn't do as often as she might have. I asked her, "Why are you crying Mom?" She tried to muffle her weeping, and said, "I'm sorry Mike. I just don't know how I'm going to raise all you kids like this." I was the oldest at twelve and my brother Bob was the youngest at 2 years old.

I don't remember if I said anything to her. I hope I gave her a big hug! It is the only time I recall my mom showing emotion for our situation, not that there weren't others. There were challenges, not only with money, but with the attention the six of us needed! And while there were many bumps in the road, we somehow all survived and are good people (most of the time). To this day, she never talks or complains about how my father abandoned us. My mom is my biggest hero!

I think of my wife Kathy, who places everything second to her family. She had a career she put on hold for twenty years to raise our children. She put them in situations to make them grow and learn. I learned how to parent from Kathy. Simple things like how to have routines, the importance of consistency and rules. I had never known consistency having being raised by one parent with six children. The only consistency we had known was moving two to three times a year, being one step ahead of creditors.

I'm so thankful for Kathy's patience with me. While I was passionate about being a good dad, I needed Kathy to show me the way. She was my parenting mentor. Kathy made life a new and much better normal for me, and allowed me to grow.

Now my two daughters are mothers, both with two children. Before she married, I always thought of my older daughter, April, as a career woman. But when her first daughter was born, I saw a natural mothering instinct come out of her that I didn't know was there. She connects with her two girls at a very base level, eye-to-eye, listening to their constant chatter, and very involved in their social and mechanical development. She backed off from her professional career to work part-time, wanting to be there for her girls in their early, formative years. They are beyond amazing in the things they are capable of at their ages—happy and thriving!

My younger daughter, Rachel, was always a natural fit as a mom. She wanted to be one as long as I can remember. From the age of 12, Rachel was sought after as a babysitter for the entire neighborhood. All the kids she watched loved how she entertained and interacted with them. Surprisingly to me, she didn't become a mom until she was thirty-one. After all, to be the best mom, it helps to find the best man to be the father. Rachel knew that! Today, she and her husband have a two year old boy and a one month old girl. There are no surprises here. She is a wonderful mother! Just as everyone expected she would be.

I love how both of my daughters not only want, but expect Kathy and me to be involved in their children's lives. And we have jumped in with both feet! I am surrounded by wonderful mothers!!

For all the mothers out there, BRAVO! Thanks for filling the gaps where we fathers often leave a void. Thanks for nourishing our children and helping fathers be dads.