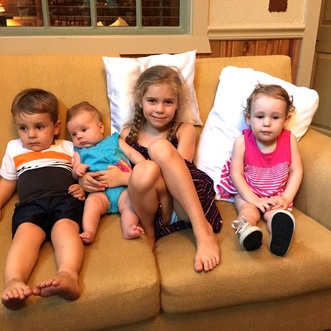 My wife Kathy and I spent this week with our family on vacation, which included our two daughters' families--each with two kids. The four grandkids are six, two and a half, 21 months, and 3 months old. While a bit hectic at times, Kathy and I loved every moment. Our vacation took us to the Branson area in southwest Missouri. Known for their excellent live entertainment shows, we had too much to do to see even one of them. Our base was Big Cedar Lodge.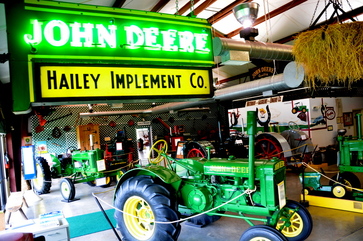 Kids have a way of expanding or changing your interests. If a little boy loves tractors, you will go out of your way to see a tractor museum at The College of the Ozarks--nicknamed Hard Work U. for reasons that are evident if you ever visit in Hollister, MO. Everywhere we looked was a beehive of activity. Moving hay bales, tending to calves, cleaning barns, making apple butter and fruit cake, learning horticulture, all being done with enthusiasm by their students.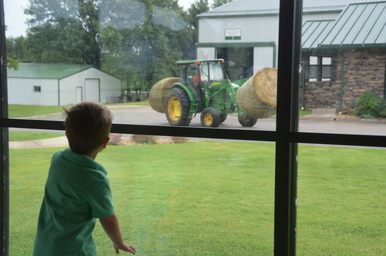 But not one student is ever too busy to stop and talk to you. One young man stopped his huge tractor while working, opened the door and welcomed my grandson to take a closer look. He was in awe! A young lady stopped to tell us how much she loved it there, being originally from the city. She was cleaning out a large barn and offered us a free kitten! It was little kid heaven!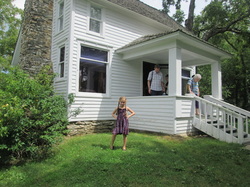 Also, if your six year old granddaughter has read every 'Little House on the Prairie' book, you will naturally go to the Laura Ingalls Wilder museum in Mansfield, Mo. There she saw the actual objects mentioned in the books. Objects like Pa's violin. Her imagination met reality and her interest in true stories not only grew, but a memory of family time will be cherished forever.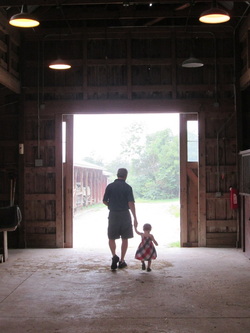 One evening, my 21 month old granddaughter, her daddy and I were alone in the cabin. She decided she was going to take care of her Papa (me) so she waddled into the kitchen area, found a paper plate and reached on her tippy toes into a bowl of cantaloupe. She grabbed a piece, placed it on the paper plate and brought it to me. "Here Papa, for you." I enthusiastically took a bite and offered a bite to her, which she accepted. She then waddled back to fetch another piece of cantaloupe and we shared it again. She did this 5 more times and each time the small piece of cantaloupe slid off the paper plate onto the floor, where she dutifully picked it up and placed it back on the plate. It wouldn't have mattered if it were a dirt floor, or the cantaloupe was rhubarb--there is no way I wouldn't have accepted her attention and caring for her Papa.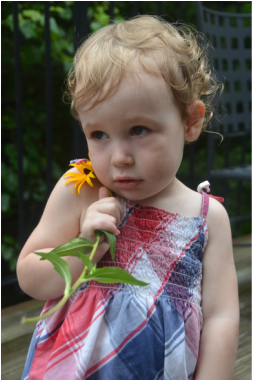 It wasn't the kind of vacation where we explore what we, as grizzled veterans of life, like to do on our own--which usually consists of traveling or relaxing. It was better than that! Because to see your children and/or grandchildren laugh heartily, or to cherish a flower from daddy, or to want to snuggle up with you, is much more precious! Watching their eyes as they see a large Belgian horse close up, or drive so near a waterfall, that you get a little wet, makes you realize you are doing these things for yourself--to them enjoy new experiences and revisit old favorites!

Vacations together are important! You may spend lots of money with nothing tangible to show for it, short of a T-shirt or trinket, but the memories are precious! Memories like these are the glue that keeps families together and the avenues that keep communication open. These experiences feed curiosities, stimulate imaginations, encourage cooperation, and inspire loving relationships.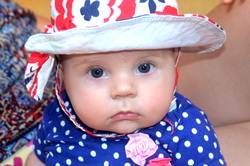 The littlest one, being only three months old won't remember the boat ride on the lake, swimming in the pools, the horseback riding, the calves or the newborn kittens in the barn. She won't remember the attention she received from two grandparents, one aunt, one uncle, her mom, dad, brother, and two cousins. But the stimulation of all that made millions of neuron connections in her sweet brain and she no doubt felt the love.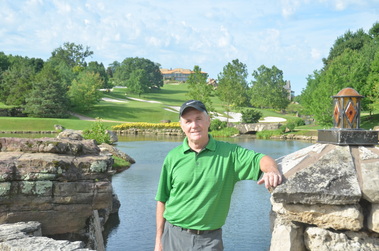 I did get to play 9 holes of golf one day with my son-in-law on a gorgeous course. I took almost as many photo shots as golf shots. And for me, that's a LOT of shots!



And I enjoyed a beautiful sunset over Table Rock Lake. It was good all the way around! Another bucket list item I hadn't even listed-- vacationing with my grandkids!