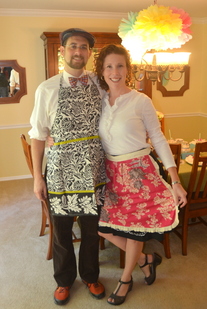 Note to parents: This is a lesson on how to throw a tea party. But there is a bigger lesson here. It's a lesson on:
1) how to be a fun family,
2) how to create fond memories,
3) how to pretend,
4) how to show love,
5) how to be a host or hostess, and so much more.

But more specifically, let's get to the tea party which was in celebration of my granddaughter Malia's sixth birthday.

First of all, to throw a proper tea party, it helps to have a cool mom and dad! They will help you plan the party and might even be your servers. Ask them to look like a fancy waiter and waitress, not like McDonald's or how they usually look.

Be sure to send fancy invitations and tell your friends it is formal affair which means wearing their fanciest clothes.*
When they arrive, your guests must be properly greeted and treated like royalty.


Oh, I almost forgot! Before you gather at the table for tea, I suggest you have an activity where you can catch up with all the latest news with your guests. Malia decided making beaded necklaces would be a perfect accessory to everyone's fancy outfits.



There is a warning! Moms may want to hang around because they are jealous they aren't invited to the tea party. They will likely have one of their own since they are learning how to do it right.


There is a proper way to drink your tea. Your little finger mustn't touch the cup and be lifted in the air in a lady-like manner... Ooops! Need more practice

After being so fashionable and behaving in a civilized manner for so long. It is always a good idea to remember what normal is...


Malia says, "Thanks for learning about tea parties. And thanks to my mom and dad for being such good servers. And, oh yeah, and for being great parents!"



It's a good idea to invite your little sister. In five years or so, she may want to have her own tea party and you will want her to do it right.


Glamour is all the rage for a proper tea party. Some will want to show off (like wearing fancy shoes)—but that's okay.


...SO, have a little crazy time because there is a time for propriety in society, and a time for silliness, not frilliness.

*Note to parents: You don't have to have real tea for a tea party. Nor do you need fancy china or silverware. Fancy clothes are usually not expensive clothes, just fun clothes. Be sure to have a camera on hand! And in the end, it's their party so don't be too strict about the agenda.