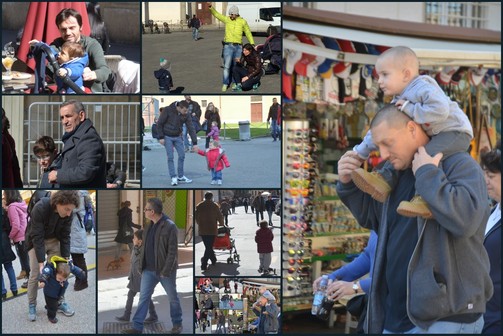 While in Italy, I'm taking a look at fatherhood in Europe. But, I'm on vacation and enjoying my hobby of photography, therefore,
a forth slide show
is at the end of this post.
Skip to the slideshow if you choose
.
Back to fathering. As with most things, change comes about slowly when long-held ideas and traditions exist. Such is the case in European countries where the role of fathers is changing slowly. According to Iva Šmídová, Ph.D., "The "traditional" father is often defined by characteristics like authority, the breadwinner-role and emotional distance. The "modern" father is a friend to his kids and shares nurturing and housework with his spouse."
The World Health Organization did a summary study called
Fatherhood and Health: outcomes in Europe
*. Not surprisingly, they found studies support the idea that men, by being more involved in fatherhood, family planning and reproductive health, can contribute to better health outcomes for the woman, the child and indeed the men themselves.
Not too differently than the US, the changing of fatherly roles depends a good deal on their social environment and expectations. This can make it easy for one culture to adapt and more difficult for another. What is difficult to sort out for some men is remaining a male model while doing some child related activities when tradition or experience has told them performing those acts is not masculine behavior. It is important to remain a male role model, a key responsibility of a father--but what is confusing to some men is knowing the characteristics that truly represent being male. What is manly in some cultures is not manly in others, even between families.
Further support. "Research literature shows how the increased involvement by the fathers can positively affect health outcomes for the men themselves, their partners and for their children, the maternal and child health services in Europe
still have difficulties in attracting and increasing the involvement of fathers in various programmes.
[emphasis added]"**
Part of the problem is that men are not always taken seriously when discussing the rearing of children. Subsequently, they receive less information and/or lose interest. In other words, today's parent education, which is often based on the participation of parents in open discussion groups, is considered to place men at a disadvantage, as the women are more used to talking about pregnancy, birth and parenting. Reaching certain groups of men is always more difficult, for example fathers from other countries, poor fathers, low status fathers, and adolescent fathers.
The good news is that interest and studies of fatherhood is increasing. Most of the interest, however, is from Western Europe and Scandinavian countries and much work remains in all of Europe, and America for that matter. But the trend is good and like most changes in life, it takes time for the winds to change.
Now to beautiful Italy!
Siena, Florence, and Il Expensivo Mall
* The report is based on a literature review with a main focus on existing fatherhood research in Europe. The review only includes literature written in English and the Scandinavian languages. All 67 relevant articles were located through searches in databases for medicine and social sciences.

**(Plantin, 2001, On men's perceptions and experiences of fatherhood] [dissertation]. Göteborg, University of Göteborg, Department of Social Work.).