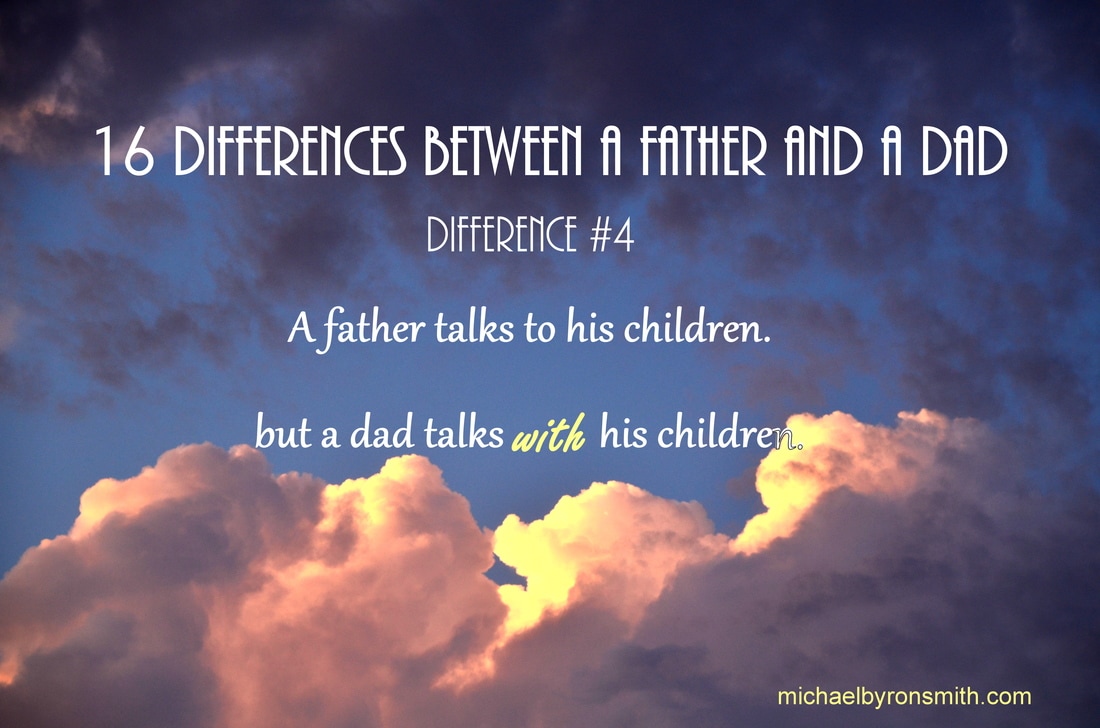 Listening versus talking, this is one of the more important differences that reveals that a man is a dad and not just a father. Two-way conversations are the super glue for relationships. And once the communication with your child improves, all things are possible.
Conversations with My Dad
The few conversations I had with my father are treasured. Mostly, they were stories he would tell me about his travels overseas as a merchant marine. I would listen with awe with tales weaved from far-away places that would have my imagination racing. But the time with my dad, the good times, were treasured even if he had been telling me about how he fixed the drip, drip, drip, of a faucet.
My dad didn't ask many questions of me. When he did, it may me feel important? Once he asked, in a challenging way, "What does having a friend mean to you, Mike". I was ten-to-twelve-years old at the time. My response, which I can't remember, seemed to impress him. "That's a good answer Mike." A pause. My eyebrows lifted. My eyes looked upward without raising my head. I recall a feeling of proud embarrassment. Pride because of my cleverness, yet embarrassment because getting a compliment like that from him caught me off guard.
If you are a parent, you've had your own experiences conversing with your father - if you had any at all. Those memories, or lack of them, will tell you all you need to know about connecting verbally with your children. If your conversations with your father were positive, you know how powerful those conversations can be for your growth and well-being. If your conversations were one-way, or if they were abusive, you know how powerfully they can hurt. If you had no conversations with your father, you no doubt have an empty feeling in your stomach. It doesn't matter if you are aware of that feeling or not, it is there!
Communication Skills
I recall reading "
Men are from Mars, Women are from Venus
", by John Gray, Ph. D. That's when I realized I knew nothing about women. But the book wasn't just about men and women; it was about understanding relationships. From this book, I realized that to be an effective communicator as a father, you can't be a fixer. That doesn't mean you never fix things or solve problems, but it means you first have to listen, understand, and empathize as much as you can before doing anything else. Mark Kopta, PhD, chairman and professor of psychology at the University of Evansville, in Indiana, agrees. "
You are much more likely to get a child to listen to you if first you listen to them
."
Some children need a lot of encouragement and positive feedback to get talking. Others will be desperate to talk to you when you're busy doing something else. This might mean stopping what you're doing and listening. Let your child finish talking and then respond. When listening, try not to jump in, cut your child off, or put words in your child's mouth – even when your child says something ridiculous or wrong or is having trouble finding the words. Listening isn't just about hearing words, but also trying to understand what's behind those words. Body language is important! Be interested and resist the desire to solve something, anything, just so you can move on. Don't be quick to judge. If you're angry about something your children have done, try and explain why you want them not to do it again.
Summary

Communication skills are so important!
Children don't always remember what we say or do but they do remember how we made them feel. Certainly, you don't want them to remember being belittled or ashamed! Actively engaging in conversation, patient listening, and allowing them the time to express themselves at their own pace creates a comfortable place for them to speak up and find their own voice which will be very important in later years. And never forget the simple forging of a trusting and lasting relationship. It happens with friends, more importantly, it should happen with your children!