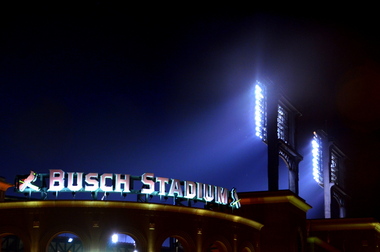 Being a dad is the most rewarding responsibility you'll ever have. While it's very important to not ignore the growing tragedy of poor or missing fathers, for most of us being a dad is really a wonderful and mostly fun experience. It's time to have some fun with fatherhood. Since most dads like sports, I thought I would describe being a dad using sports terms. See the list, by sport, below. If I missed a good analogy, let me know.

Mike

---
Football terms:

Punt – not changing a diaper by pretending you don't smell it.

Going all the way – why you're a dad

Neutral zone – when you lock yourself in the bathroom for peace and quiet

False start – when that look on your toddler's face turns out to be… just gas!

Incomplete pass – when your wife ignores that gleam in your eye.

Double team – sometimes required when giving your kid a shot, or a haircut

Running outside – when dad doesn't put the diaper on correctly

Kickoff – what infants do to their socks

Onside kick – what happens when your kids sleep with you

Baseball terms:

Wild pitch – your attempt to convince your wife into letting you go out with the guys

Balk – what your kids do when it's time to go to bed.

Scoring position - a very rare occurrence when you have young kids

Relief pitcher – your spouse when he/she gets home

Intentional walk – what you take when you just can't handle anymore

Passed ball – what you get after your toddler swallows a ball

Rundown – what you get from your wife when you get home

Sweet spot – see scoring position

Spitball – self-explanatory

Designated hitter – babysitter

Single - a past life that seems like a dream ;)

Double play - definitely a dream!

Basketball terms:

Draining a 3 – potty training your toddler

Triple threat – triplets, or the consequences of a very sick child

Dribble – self-explanatory

Pick and roll – what you do with a full diaper

Hockey terms:

Slap shot – a form of discipline when you were young

Goal Keeper – something every dad should be

Boxing term:

Bob and weave – what you may have to do while changing your son's diaper

Tennis term:

Love - self-explanatory!

Have fun with your kids!