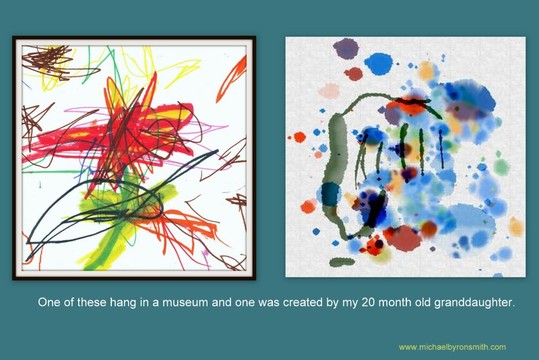 One of my favorite shows on CBS is
CBS Sunday Morning
. My wife Kathy and I like to record it and watch the stories and interviews that are always very well done. Last weekend there were two interviews that, together, caught my attention. One was an interview with Jose Parla, an artist who was commissioned to paint a wall in the New World Trade Center. The other was with Chrissie Hynde, the lead singer of the
Pretenders.
Both were stories of success from a background where success would never have been contemplated by those that knew them beforehand. What caught my attention was how both of them found their success despite doing so many things wrong--but that was not the focus in these two segments.
I sincerely applaud both for bringing to the world something others wanted and enjoyed. I have no issue with the success of either,
but why did CBS Sunday Morning not feature at least one success story where selfish interests and rebellion were not so prominent?
Doing your own thing is not uncommon or unhealthy, but doing the wrong thing and succeeding is rare. To get to the vaulted positions they enjoy despite their egocentric, sometimes illegal, and anti-establishment practices was not tempered by stories of failure which are much more customary with these behaviors. The values exemplified within these two features are not the ones I would ever suggest young people to follow.
The Artist
Jose Parla was a graffiti artist who, as a youth, shunned classes he didn't care for and broke the law desecrating the property of others. To him, his creative expression was more important than the rights of the citizens he disregarded. To digress, earlier this year, I spent a month living in Florence, Italy. It is one of the classic, artistic, and beautiful cities of the world. But once you get out of the touristy area of Florence, graffiti is everywhere and it scars the essence of this historic place. Why isn't there graffiti in the tourist areas? I'll let you decide.
Of course, Jose Parla had nothing to do with the graffiti in Florence. My point is that Jose Parla is no different than the graffiti artists in Florence, who took it upon themselves to force their art, personal messages and politics in ways that were offensive and unwelcome to many. It's not that I dislike the art of graffiti. In my hometown, there is a very long wall legally dedicated to graffiti. I don't hate guns either—but I don't want one pointed at my head! Graffiti is an interesting and a perfectly acceptable way to be expressive when executed properly. The happy part of the Jose Parla story is a teacher saw his talent and got him into art school. He moved away from unlawful graffiti to a more acceptable way to be creative. And although I think his abstract art is visually pleasing, so is the art of my toddler granddaughter featured above. His fortunes were further helped by famous people who happened to like his graffiti background. He's one of the lucky ones.
The Rock Star
Chrissie Hynde came from a middle class family in Akron, Ohio and had a classic case of being bored. She joined an outlaw motorcycle gang for their common interests in getting high and listening to music. "
All we wanted to do"
she said, "
is to score pot and see bands
". Tragically, she was even raped while with this gang and considered it something that happens if you hang out with outlaw bikers. She joined a band whose founders both died from overdoses of drugs. With all this and a distaste of performing publicly, she had the fortune of being able to deliver what music fans wanted to hear. Yes, her talent helped her to overcome many bad choices, but there are thousands of talented people who play in nondescript bars that never get that break they may think they deserve. She's not only one of the lucky ones; she lucky to be alive!
What are the Lessons?
Maybe CBS's lesson was to say 'do what you love to really be successful'. A good lesson for sure. But there are other stories to tell to get that point across. What struck me is CBS telling these stories while young people are saying to themselves,
"Graffiti made Jose Parla rich and famous! Why not me?"

"Doing your own thing works, even if you do break the law and destroy the property of others."

"You don't need to go to school. That's not important if you have a talent."

"Drugs and an outlaw lifestyle didn't stop Chrissie Hynde from being famous and successful."

"Why do I need to go get an education? I just need to do my own thing and things will work out."

Some young people may be inspired to succeed by these stories, but without some schooling, how could they understand the tremendous odds these people defied. Few of those who live the same way will actually prosper; and I would never want to give a young person the impression that this is the way to succeed. When we have over one third of US families in a single parent situation, who will be there to bring reality to back to them. For a fully adult audience who understands the real world, these are very interesting biographies. For an immature child who has no mentor, I worry about him or her assuming a message that may not have been intended.
Why not emphasize at least one story about a disadvantaged person becoming successful, not by skipping classes but taking on more challenging classes--not by taking drugs and joining criminal gangs but by being quietly courageous--not by being unlawful just because you like doing what
you
want to do but by thinking of and doing for others. Challenging authority is not necessarily a bad thing. But when Jose Parla and Chrissie Hyndes were challenging authority, it wasn't for anything other than their own self-interests. Two personal stories that, when heard without a mentor, could mislead our youth as to how success is gained. It's not CBS's job to teach our children. It is a parents' job to know what they are watching so they can explain things CBS isn't considering. Find your own personnel stories of courage, determination, and unselfishness.
Inspiring stories that feature values:
1.
Arnie Boldt
, who lost a leg in a farm accident when he was three years old, yet became a world-class high jumper (videos on YouTube) whose best jumps were well over 6 feet! He later became an educator and a world-class Paralympic cyclist!
Boldt overcame odds to succeed rather than creating odds.
2.
Erin Brockovich
, who fought hard against great odds to help people in a case that alleged contamination of drinking in the southern California town of Hinkley.
Her acts were unselfish and may have saved many lives.
3.
George Washington Carver
, who was born a slave but walked 10 miles to a black elementary school, worked in a kitchen for tuition to a high school, and was accepted into a college until they realized he was black. Nevertheless,
he overcame tremendous odds that were very unfair yet eventually contributed immensely to the field of botany.
Summary
Success and values--both are important! Success is the desired end—values are the preferred means. Does the end justify the means if achieved without values? Should we celebrate success gained without values?
Are failures less deflating if values were kept intact? Is talent always celebrated or just randomly discovered? Is talent more important than values? These are lessons that could be answered in one way with a parent's guidance, and another way without a parent's guidance. It depends on the parent(s).
What are your values? Do you guide your children?