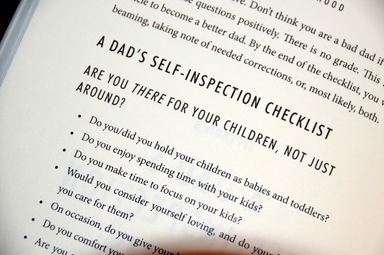 It's Fathers' Day, or as I prefer to call it, "
Dads' Day
". It's the day dads get some recognition from their children for the devotion, love, and sacrifices they have made in raising them. Usually well deserved!
Children remember tender times, such as when dad checked under their beds and assured them that there really wasn't anything under there to be afraid of--after watching a scary movie. They appreciated that he, during thunderstorms, held and comforted them. And on Saturdays, he made French toast! When there were dance recitals to watch or games to coach, dad would be their cheering them on and bragging on the phone about them to their grandparents.
Yes, dad was someone you wanted to be like. Little girls whimsically want to marry their dads when they grew up. Boys recall following dad around, "helping" him fix things around the house and wiping their forehead when dad wiped his. And, of course, kids remember when dad had to set them straight about how to treat others when they may have been rude or selfish, knowing it was for their own good.
Now that I'm not only a dad but a granddad, I think about those things kids will remember and question myself, "
was I really a good dad
?" Hopefully you will know that you are. But you have such a great influence on your children throughout their lives, you must contemplate your fathering style and reevaluate yourself at times. You may not realize until you question yourself, that you've been a little short tempered, or you have been involved too sparingly. Things you need to fix quickly!
Following is an article I wrote for my publisher Familius entitled, "
Dad: What's Your Fathering Style
?" The purpose of the article is to remind dads to occasionally reflect on how they teach, mentor, and love their children. Even the best dad can learn to be a better one if he just asks himself a few questions.
If you have not yet read my article on Familius.com, please take time to read it below. As stated by Billy Graham,
"A good father is one of the most unsung, unpraised, unnoticed, and yet one of the most valuable assets of our society"
Read here:
"Dads: What's Your Fathering Style"