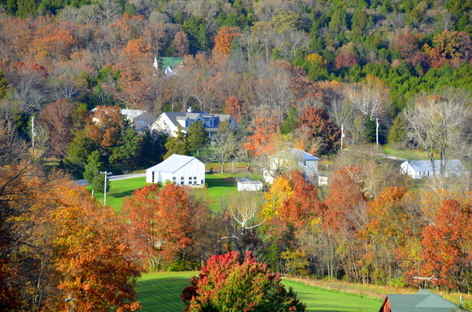 One day in 1999, I started putting some thoughts together about being a dad. I wasn't sure what I was going to do with those thoughts, but because of my experience as a boy and as a father, it was important to me. I continued this practice but would often not write anything for weeks. As retirement was approaching, I became more serious and promised myself to organize my thoughts into a book for my family. My persistence paid off and with the help of others, it will be published by
Familius
in April, 2015--and not for just my family. Knowing how much time, work, and aggravation it took, I wouldn't have made that promise to myself. But since all that is mostly behind me, I'm very satisfied with the journey. The first note I ever wrote put in motion a process that has changed my life in a way I never contemplated, but certainly love and appreciate.
For years, I wrote at home, in libraries, and various 'Bread Companies". I wrote on vacations and even at work when a thought occurred to me, not wanting to forget. But I also had another vision, a vision where I was writing in a quiet, isolated location, on a table by a window with a beautiful view. Well, you know how it is to have a vision—it pulls you toward it. The more vivid the vision, the more the pull.
While my vision was pleasing, it wasn't elaborate. Just a small piece of land, maybe on a hill, and a small A-frame with enough room for a table and maybe a sofa bed with a small dorm refrigerator and a rustic bathroom. Just quiet, inspiring beauty, and a table with a window.
I had been looking around, mostly in Jefferson County, Missouri and I had found some amazingly beautiful areas. Areas most people from the St. Louis area never see because they are out of the way. But to find land for sale that was perfect for my needs was difficult.
One day, I was driving home from playing golf asking myself "why do I torture myself playing this game?" when I came to the intersection where I enter the interstate highway to go home. A quick thought came to me, "I wonder if there are any possibilities of land ahead of me towards Augusta?" It had never occurred to me to look before. It was early November and even though it was after 4 pm, plenty of daylight was left. So I sped across interstate instead of turning on the on ramp towards home.
I had driven about 10 miles when I came to 3-way intersection. There was a sign that said "home with a beautiful view". I wasn't looking for a home, but I was looking for a view. I took a right turn and drove up a steep hill and three miles later, I found the house with a beautiful view. And it was! I could see for miles over the Missouri River Valley. The view and the house were breathtaking. Almost as breathtaking as the asking price of $750,000! In the Midwest, that gets you much more than a simple A-frame.
After slowly backing away from this beautiful home, I decided to keep driving down this road I had never traveled before. It was a fun adventure. On the highest elevation of the road, the beautiful fall foliage surrounded me, blocking any distant views until I came upon an opening that delivered a view of the most beautiful valley I had ever seen in this area. Being far off the beaten path, I wondered if this was how Lewis and Clark may have felt as they navigated the nearby Missouri River.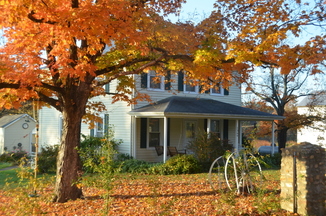 Of course I wanted to investigate further. When I got to the bottom of the hill, I saw a yellow farmhouse with a sign that said FOR SALE BY OWNER! I didn't go any further that day.

Now this farmhouse was not what I was looking for. This was a two story, 2000 sq. ft. home built in 1900. It was not on a hill, although it did have beautiful views, and it came with a barn and shed with three acres to mow. But it spoke to me.

I drove home and told my wife Kathy about it. I was shocked that she didn't discourage me on the spot. A few days later we went back to look the property again. Kathy was curious and we both enjoyed the ride. Three months later, we bought it and our lives changed.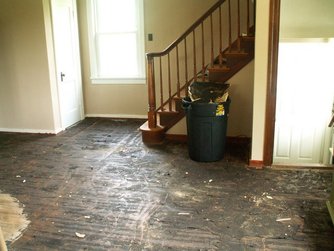 It's now six years later. I have re-learned what hard work is all about. I found a beautiful wood floor under 2 layers of the ugliest linoleum you have ever seen. I turned an old canning kitchen and breezeway into a comfy living area surrounded by windows with a fireplace. With the help of my brother, I installed glass double doors where a wall used to be that separated two rooms and added a picture window in the kitchen to view the landscape. The house is solid, built of oak 2x4s when they were actually 2 inches by 4 inches! You can jump up and down anywhere in the house and not one thing will shake.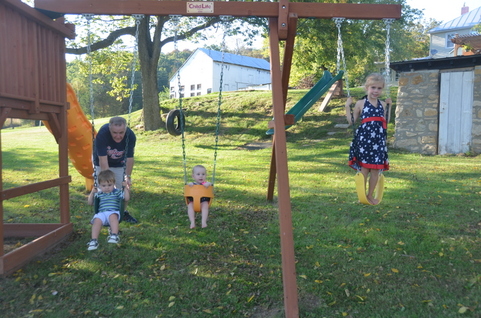 Three grandchildren have been born since then and one is on the way. What was to be a small writing place has become a family gathering place for my extended family. We celebrate Thanksgiving, Christmas Eve, birthdays, and more. Every Memorial Day we invite friends and family to a huge party with lots of food and fun for kids. We've even had a band on a couple of occasions.
We have a play set, tire swing, playhouse, motorized toy tractor, a creek nearby, a barn, and lots of room for kids to run around. We've had many bonfires under a sparkling carpet of stars. My original idea of a place to write has turned into a memory maker for my wife, my children, my grandchildren and me. Memories that have brought us all closer together.
I often wonder what my current life would have been like today had I not made that snap decision to drive across the interstate that early November day in 2008. I may have finished the book much sooner, but not as well, and at the cost of so much living.
Oh, one more thing, Please suggest my book to a father who could use some encouragement!
"The Power of Fatherhood - A Better Society Starts with Dad"
Out in April 2015.