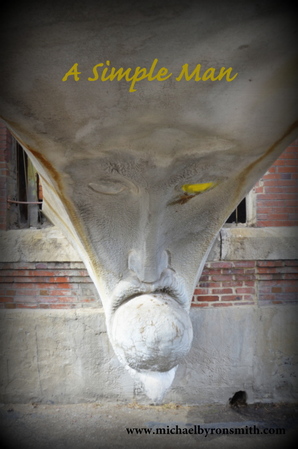 "Every son quotes his father, in words and in deeds."
- Terri Guillemets

When I was about twelve years old, I was visiting my paternal grandmother in the small rural town where she lived. She was widowed when I was two years old after my grandfather had died of sclerosis of the liver. She was tough, having raised 6 boys and one girl while she and my grandfather operated a rough and tumble bar. I think using the term "raised" may be generous.

My father and grandmother were close in a strange way. He would stay with her after long trips at sea as a merchant marine. He was a hard drinker like my grandfather had been, and my grandmother tolerated him as she had done with her husband and the men who were patrons of their bar. The fact that my dad gave her some of his sea duty money ensured him a place to land between jobs. He had not lived with us for a few years.

I asked my grandmother why she let my father stay with her since he was almost always drunk. She said she was used to simple men like him. I asked her what she meant by simple men, although I'm certain that was not the term she usually used. She said all simple men want to do is drink, gamble, and whore around.

Simple or Ignorant?

Looking back on this conversation, I think 'simple men' was too simple of a description--an adjective or two is missing. A better description may be a 'simple-minded' men, or a 'simply-selfish' men, especially since many of the simple men in my grandmother's bar were married with children, or at least had children.

Why did they act this way? One simple reason, for many--it was all they knew, all they ever saw. Their own fathers may not have shown them much attention, but they still hungered for it and some thought following the lead of their fathers was a connection to them. Having goals was a foreign idea from generation to generation. The closest thing to a goal would be instant gratification. In these men's lives, there were few who would bother to challenge this type of behavior. Those who tried became worn down.

Certainly, this would not be the kind of man who would be an example for a young person to follow, yet his example is followed. To drink, gamble and whore is somewhat appealing to an impressionable young man without alternatives. It's fun! It's exciting! It's even dangerous which makes it more exciting. If that's all an impressionable young man sees, then to do otherwise would be foolish in their gullible minds.

A simple man thinks little beyond the world in which he exists. He's been indoctrinated to take advantage of others because he's been taught that those who allow it are fools and deserve it. It's a lesson your father and possibly his father have passed on to you. Why upset the apple cart? Why dare to be better? To do more would bring a wrath of criticism from buddies. The women they live with may not like it, but they expect it and have always put up with it.

Certainly many men surrounded by this nonsense break away from it, but too many do not. Habit, conditioning, and custom are tough to break away from, especially when you are free of concern, responsibility, or guilt. A simple man doesn't know how to balance his many responsibilities nor does he care to accept any. A simple man has no problems--beyond getting out of his own way, his own mess.

A good father is not a simple man

A good father is anything but a simple man. He takes time to relate to his children even though he spends many hours working to provide for them. A simple man would not understand the power of a modest smile or pat on the back. Nor would a simple man take time to listen to his children or encourage their interests, even if they aren't his interests.

Some say a simple man is one who doesn't need much and asks for little. But that is not a simple man. That's a contented man. Contented men are often multifaceted and very accomplished. Accomplishment is a necessary facet in contentment, having met challenges and conquering them. Accomplished men breed more accomplished men.

A simple man is not burdened by the needs of a loving family, or a happy wife, or the success of a child. They are simply out for themselves. Simple men breed more simple men. Unless a son breaks the mold, unless he doesn't 'quote his father, in words and in deeds', simple men can continue for generations.

It's a simple truth!