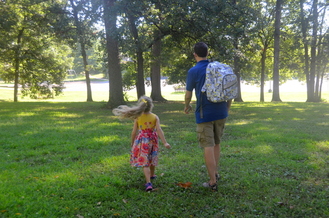 My five-year-old granddaughter started school yesterday--her first day of kindergarten. She was excited! She wore a colorful dress that clashed with her oversized black and yellow backpack, filled to the brim with more supplies than a survivalist flea market. Her grandmother and I came to her house that morning to take photos and walk with her and her family to school. It was a gorgeous day, sunny and cool! On the way there my granddaughter skipped, looked back at us, urging us to catch up, and seemed happily prepared for her new adventure.

We took pictures in front of the school with her mom, dad, and little sister. Then it was time for the bell to ring so we escorted her into school, then her classroom. We met her teacher, a very pleasant lady in her early forties wearing a blouse, skirt and comfortable flats. My granddaughter had already met her once before, during orientation. Only as she was greeted by her teacher did she get a little quiet, becoming uncharacteristically shy. She sat in her assigned seat, delighted that a friend of hers was assigned to the same table.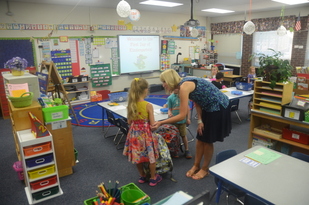 We stayed less than a minute, leaving my granddaughter to fend for herself on this first day of a very important phase of her life. She never looked up--just a slight wave of her hand--I assume due to the anxiety of the moment. As we all walked out of the building, I could see that her mom (my daughter), was gently crying. She then said something quietly to my wife that has been said countless times by countless moms, "She's growing up so fast!"

On the walk back to the house, I held my other granddaughter, a 10-month-old, smiling charmer, who wrapped her legs around my waste and waved to anyone who would look at her. I thought about how fast time goes by the older you get. It would be a blink of an eye and we would repeat this scene with her in five short years--when her big sister enters the 5th grade.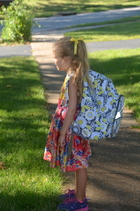 "I like this age!" I thought to myself. I love to see this little one smile and reach for me. I love the rolls in her thighs and her chubby feet. When you play a song she will sway to the music and wave her hands. Her big sister used to be like that! Now her big sister is just perfect in another way. The same girl but not exactly the same girl. We all loved her as she was, and now we love her as she is! We want both, but we can't have both. It's the one thing that we can't change that we really would never change if we could. Yet the melancholy still gets to most of us parents and grandparents, especially the moms!

The melancholy is a signal that you are in love with this moment, and you don't want to lose it! But you are forgetting that you will be in love with the next moment, then the next moment. A better way to look at your children growing and maturing is to love the process, the process of going from moment to moment--while really living in each of those moments.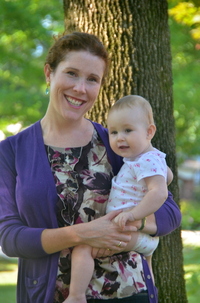 Life sometimes gets out-of-whack when we get too caught up in lesser thoughts. Things we can't control, trivia that pollutes our minds, work that becomes a bigger priority than family, all these things and more will rob us of parenting moments if we let them. The melancholy is natural and loving. It's when you miss moments that can't be repeated or remembered that fleeting melancholy becomes permanent regret and sadness.

A tear streaming down a mother's cheek, coming from the deep emotion of love is beautiful. A tear streaming down an absent father's cheek because his grown children won't have anything to do with him—is tragic!