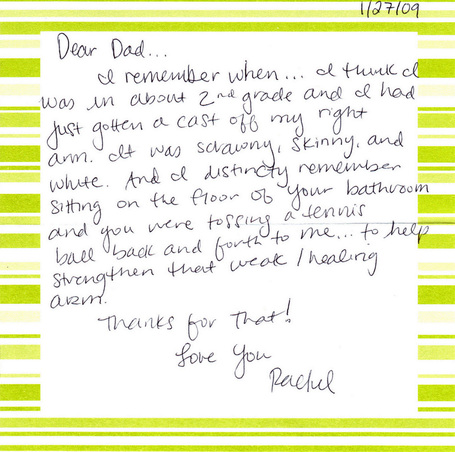 There's a different kind of love letter. Not the kind of letter that ranges from puppy love's hearts and arrows to passionate expressions of heartfelt attraction. No, it's the type of love letter that is deeply forged from a life of dedication and sacrifice. One that is not as likely to fade into yesterday's news as time moves on and passions erode. It's the letters and notes of love between family members. A beautiful example of a letter (entitled "Down of the Tracks") from a son to his father follows my introduction.

My kids have always graciously expressed themselves by thanking my wife and me for the things we did as their parents, especially my daughters. The note enclosed by my youngest daughter, Rachel, is just a random example. I didn't need to get this note to be proud of Rachel, or to understand her appreciation, but I'm not sure if she knows how much it touched me at the time, or even now as I rediscover it six years later.

You take care of and mentor your kids because you want them to succeed in whatever life they choose for themselves. Your reward comes when they are happy and successful. Nothing else is necessary. Of course, you only have so much control and your children must do their part, and they usually do with your encouragement and love.

Every so often, a dad will get something extra. Something that will smack him between their eyes and test every cell in his body to keep him from getting emotional. That is when he finds out the little things he did were noticed. Those little things that add up to being a top-notch father, a true teacher and caring parent. Lucky is the man whose son or daughter will take the time, or even think to write a note of thanks to a parent. I am one of those lucky men. Both of our daughters are wonderful at expressing their appreciation for the things my wife Kathy and I have done for them. My son, not so much--and that is okay!

It's not that my son is any less thankful. It's just not his style--which is true for most sons. So don't fret if you never receive a note like the beautifully written note below. You know if your children appreciate you just by how they act towards you. But it is admittedly special when you are a father and get something like the note you are about to read.

I have never met this lucky father or his son. It was sent to me by my sister who knows the father. He graciously allowed me to print it here. All the diapers, money problems, back talk, worries, time, and frustrations are all forgotten and melt away into a dripping pool of love when you realize your children appreciate all you have done for them. It's extra special when they write it down.

Here is the letter from a loving son to his father, on his dad's 60th birthday.

Down On The Tracks

So there he is again, his wrap-around sunglasses glued to his face, tongs in hand, flipping the Maull's basted pork steaks on the back patio. Resting the lid back on the Weber kettle, he props his left hand on his hip, takes a swig of Budweiser with his right, and admires his freshly cut lawn. With just enough time left before dinner, the boy asks him to play long toss.

Mentor and apprentice. Father and son. They lob the baseball back and forth, broken only by the need to check the grill. Their passion for the game is a bond that strengthens what is already a relationship few are lucky enough to experience. The father knows that his son's speed is a virtue. If only he could put a good swing on the ball. He thinks it every day.

He's there for the boy regardless of his skills and potential. He's at every game because his father was not at every game. He's at every game because he owes it to his only boy to give him the best chance at success. He's at every game because of the possibility of something great, but more importantly, he is there because of the possibility of failure. He's going to lecture his son's hesitation in the batter's box. He's also going to praise his consistency in center.

But for now they toss the scuffed cowhide back and forth. The seams leave the father's long, right arm with precision, landing in the web of the boy's mitt with a pop. The boy slings it back, his lanky appendages flailing wildly - their proportions so similar. As their deep forest of a backyard hums with life, dusk approaches. They get down to business.

"Give me one more runner, Dad." He loves it; seeing his son track the flight of the baseball with ease, usually ending with unnecessary summersaults and sheepish, satisfying grins. Making him proud. Making his Dad proud. He is able to run and catch and laugh and play because of his father. His father made him. The boy is his father.

Innocence. Ignorance. Not knowing where life is going. Not caring. It doesn't matter, because these are the moments that will stick. These are the experiences that do the molding. These are the memories that the boy will have forever. Because of his father, the boy will be there for his son one day. Because of his mentor, the boy will lead by example too, some day.

And so they make their way back to the patio. The grass springs back-and-forth as the father's Reebok's brush through the blades with each long, shallow stride. They construct a pile of meat and make their way up the pebble-patched stairs and into the house.

They eat and they lounge. The groundwork has been laid – the road paved. Wherever life takes them from here is secondary to the job that has already been accomplished. 'Thunder Road' hums from the mantle, and for a moment the room falls silent as The Boss bumbles "Heaven's waiting down on the tracks".

What a lucky father and, of course, what a lucky and loving son. Like the father in this story, I didn't have a father quite like this one. What came to my mind was not my own dad, but my younger brother, Bob, who easily could have been the subject of this story.

Knowing my brother's son, who just turned twenty-one, he will likely not write Bob a thank you note, even less likely a story like this. But maybe he will. My nephew, like my son, doesn't express himself that way. However, I do know for certain that my nephew feels the same way about his dad as the son who wrote this letter! Like his dad, Bob's one of the good ones!