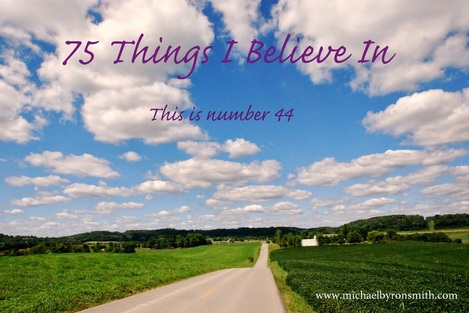 We all believe in certain things, and the sum of those beliefs really defines us. As a father and grandfather, I hope to pass on some of my beliefs to those loved ones that follow me, while letting them decide the beliefs they choose to follow. Being less than perfect, I do not do, or have not done, everything I suggest below. But I do, or have done, most and believe in the rest. Your list would be different and maybe much better, but after you write down such a list, you will know yourself better. But to really know yourself, let friends and family grade you on how well it describes you. I expect it could very much be an eye-opener. Here goes.
I believe in the following thoughts/ideas:
Be able to pass a citizenship test
Moderation in all things
Use technology, but don't let it use you
Let your good deeds be discovered, not announced
Serve in the military or some civic service
Occasionally give each of your children your undivided attention
Pick up random bits of litter
Make fresh air a priority
Desire perfection but accept a best effort
Visit other countries and other parts of your country
Visit people in a nursing home
Take care of babies and toddlers for a week before having your own
Work with those of different ethnicity
Eat less, move more
Reward yourself occasionally

Earn what you take

Be generous with what you earn

Study history

Notice things

Rethink having earphones on in public

Occasionally take deep breaths

Be a mentor to someone

Smile honestly

Make every attempt to be on time

Take long walks

Be responsible for something

Do what you say you will do

Never smoke that first cigarette

Understand risk and consequences

Take a parenting class/test prior to having a child

Stop at lemonade stands

Respond to all reasonable requests, even if it's no.

Have a workable plan
Have an informed opinion

Watch the movie, "It's a Wonderful Life"

Remember the good, forget the bad, but learn from both

Trust your instincts

Go to farmer's markets

Don't accept the rude behavior of others (unless they can beat you up)

Never tailgate, except at sporting events

Save at least 5% of whatever you earn, 10% or more is better

Wave to folks in sparely populated areas

Have some knowledge of etiquette
Look up at billowy white clouds

Dress properly for the occasion

Argue respectfully

Never be patronizing

Make eye contact

Governments should make laws, enforce laws, and interpret laws—as seldom as possible

Never use the f-word (except, maybe, when you stub your toe, etc.)

Buy locally when possible

Give family the benefit of doubt, while being the toughest to convince.

Think outwardly, not inwardly

If you move away, always root for your home team

Let cashiers know if you were undercharged (or overcharged)

Never forget the big picture

Violence is a display of fear and ignorance

Whistle while you're alone, but rarely in public.

Know the friends of your kids

Wear seatbelts/helmets because your smart, not because it's the law

Never text while driving, even if you think you're good at it.

Give in sometimes, but not at the wrong times.

Swing your arms when you walk, slightly.

Be patriotic! But not 'idiotic' patriotic.

Never stop learning

Keep busy

Never be drunk and/or naked in front of your kids

Respect the customs of others, especially in their homes and/or country

Ask a lot of questions, especially at your doctor's and insurance agent's

Call your mom

If you have a good relationship with your dad, you won't have to call him, but do.

Go out of your way to be kind to those who need kindness the most

Think, but not always

The best things in life are free, you just have to notice them.

The core family is the most important social unit on earth--it needs help

If you disagree with anything, that means you are not me. And that is a good thing for you.
Thanks for taking time to read!