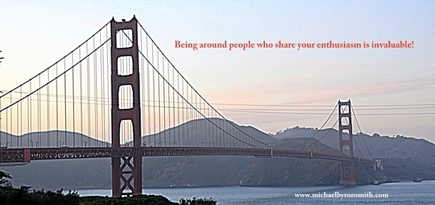 As a Fatherhood Advocate, most of what I learn about being a dad is from totally unrelated areas. This past week I was at the Independent Book Publishers Association's (IBPA), Publishing University. It was one on the most rewarding, and educational conferences I have ever attended! While I was there to learn about writing and publishing, I also learned lessons I can use to encourage better fathering.
Below are 18 things I learned, or were reinforced to me, at the IBPA Publishing University. They are from my scribbled notes and I could only attribute a few of these directly and some are just observations of mine. So, in mass, I attribute the following 18 lessons to the speakers, members and staff of IPBA.
Being around people who share your passion is invaluable



Encouragement is like rocket fuel



You can always learn from others



You always have something to contribute



People are excited to help those who want it



You must have values, a mission, and a plan



You're always fighting the odds, so you can't be lazy



There are a lot of ways to skin a cat



Don't squat with your spurs on (also a book!)



You must have a platform (or you'll never be found)



Be with your audience



Look into their eyes and be honest



Look for people who want your success



Maintain your position until circumstances change in your favor



A professional is an amateur who didn't quit



Partner with experts



Do what you have to, even if you don't like it



Share!

For the dads out there, are not these lessons useful for us as fathers? Even #9!
Thank you IBPA!